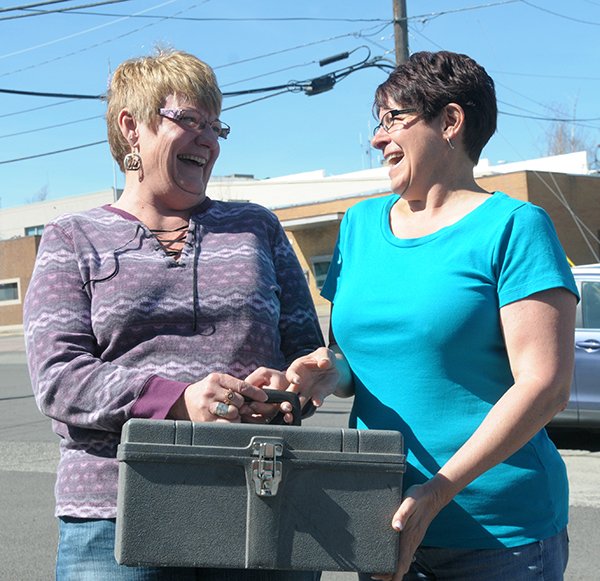 Photo by Lorie Palmer
Holly Cox (left) takes the tool chest for Windshield Magic from Shanna Caba (right).
GRANGEVILLE — "I've been looking for a part-time job for 10 years and an opportunity finally came up," smiled Holly Cox of Grangeville.
Last Thursday, May 1, Cox officially purchased Windshield Magic from Shanna Caba. Caba moved to Clarkston last year and will continue in the business in that area.
Cox works at the Grangeville Avista office 24 hours per week and also sells hand-crafted jewelry. Prior to that she worked at Inland Title and then at the Idaho County Courthouse as a mapper. She has been at Avista for a decade.
"I wanted something that I could do in the afternoons and Fridays and still have my weekends free when I want and need them," she said. "Shanna and I have been friends for a long time and when I found out she was thinking of selling I thought this would be perfect."
Caba purchased Windshield Magic in 1999. She has been coming up to Grangeville once a week to continue the business and for the past few months Cox has been learning the trade, going on jobs with her.
"I like people, especially one-on-one or in small groups, so I think this will be a fit for me in this way," Cox said.
Windshield repair with the resin fill-in is paid for by most insurance companies.
"Call when you first notice the chip or crack as it is much easier to fill then and simply works better," Cox and Caba each said. Generally any crack less than size of a dollar bill or chip smaller than a 50-cent piece can be repaired.
Cox will continue to work in Grangeville and the surrounding areas and will repair cars, trucks, logging vehicles, RVs and more.
For details call Cox at 983-3451 or e-mail bhcox@q.com.