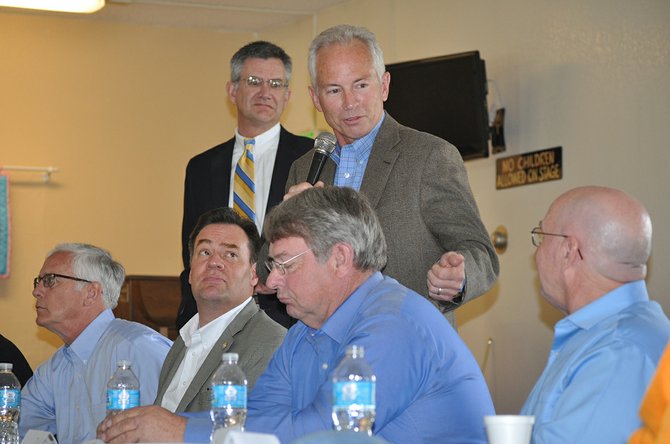 Photo by David Rauzi
State Controller candidate Todd Hatfield (center) comments with attorney general candidate (right) Chris Troupis at Saturday's candidate forum in Grangeville. Also pictured are (seating, L-R) governor candidate Russ Fulcher and Lawerence Denney for secretary of state. Back is Idaho County Commissioner James Rockwell.
GRANGEVILLE – Solutions that returned the focus to citizens and local control, whether on federal lands, education, and needs to improve state management and agency transparency were among the themes addressed at last Saturday's candidates' forum at the Grangeville Senior Center.
Nearly 40 people attended the two-and-a-half-hour event that started with candidates for both state and District 7 elected offices summarizing their political focuses, and followed with audience questions.
•
"I believe everyone needs fair and equal representation," said Chris Troupis (R), candidate for Idaho Attorney General. Troupis said the attorney general should be "stepping in the gap to protect you" and not against citizens in favor of government. He noted his 37-year private law practice, largely dealing with constitution law and fundamental rights, and that he has taken many cases pro bono, continuing a family ethic of service to the public.
"The longer you are in government, the more you are captured by it," Troupis said, referring to his opponent, incumbent Lawrence Wasden, in public service since President Ronald Regan was in office. He criticized Wasden as "dead wrong on interpreting the Constitution" in his support for state land board private investments that compete with business; and his attacking business by supporting repeated appeals against Debco, an Orofino construction company, suit for lack of payment on a public project that cost the company in both dollars and laid-off employees.
"We need an attorney general who understands his constitutional duties to the people," he said.
For Lawerence Denney (R), candidate for Idaho Secretary of State, "experience counts," noting he has spent his life in the private sector paying taxes, managing employees and budgets, and that he did much the same during his term in the Idaho Legislature (Dist. 9, 1996-present) during which he served six years as Speaker of the House. "I have both political and practical experience I bring to the job," he said.
Denney noted his business background in the timber and mining industries, and his legislative service on the Natural Resources Committee, and during his term having brought the resolution forward for federal lands to be turned over to state management. Fighting to return those resources back to Idaho would help in job creation and funding local governments and schools.
Questioned on efforts to put federal lands within Idaho under state control, Denney explained a plan needs to be in place before this is done, and an interim committee is working on that. He reassured, if achieved, plans are not to sell it all off or "cut every stick" but to actively manage it, "rather than have it managed by litigation."
Issues of concern for Idaho Controller candidate Todd Hatfield (R) were government transparency and the Idaho Land Board investments.
"We should be protecting Idaho business, not getting into competition with them," he said, criticizing the board's diversification into commercial assets for supposed higher returns that turned out to be less than 4 percent in two years. He also stated the need to improve public agency transparency online to allow the public to better monitor budgets and expenditures.
Hatfield's background includes 30 years as a small business owner, and Vice Chair of the Idaho Republican Party.
"You lose prosperity, you lose freedom," said Russ Fulcher (R), candidate for governor, in governmental overreach that takes more and more control from the people.
Fulcher expanded on the Idaho health exchange under the federal Affordable Care Act was the "wrong move" by the state, that when federal money was received for the program "we were invested to make it succeed." Rather than the exchange, Fulcher supports free market solutions that include health care savings and direct-pay components, health care memberships. Rather than use state resources to prop the exchange up, he advocates for creating better solutions through the free market.
"Reduce dependency on the federal government," said John Eynon (R), candidate for Superintendent of Public Instruction, who said the solutions to improving Idaho education can come from Idahoans, and getting away from top-down driven mandates. Eynon calls for respect of parental rights and restoring local control of schools, and improving student safety that specifically includes personal data that other agencies can access "violating children's and parents' privacy."
Eynon opposes Common Core as an unproven experiment that "will be costly to roll out in the next decade," he defends school choice including home schooling, and he wants to move student assessment testing from SBAC to NWEA that is less expensive and a better test preferred by teachers.
"We need to get our land back," said Jim Chmelik (R), candidate for lieutenant governor, which in his past five election bids has been his consistent theme, he said. Sixty-two percent of Idaho is federally owned, which should be returned under state management. This restoration of local economic control would translate into jobs that stimulate community's economies, and increase tax revenues that support county and school services. He noted the state's standing as 49th in creation of minimum wage jobs and 45th in gross domestic product. "I think it's time to change that," he said, stating that Idaho residents have the ingenuity to solve problems
"If we want to control our destinies," he said, "we need to get our land back."
•
District 7 races
Shauna Hillman (R), candidate for House District 7A, touched on a three-point platform of natural resources – including the impact of federal mandates that hurt rural communities – economic improvement and also education.
"I offer a listening ear," she said, as well as drawing on Idahoans ability to solve problems in addressing state issues. Hillman noted her background as a 30-year business owner in Idaho to having the experience and expertise in balancing budgets for education and social services while maintaining a stable economy.
"Job creation is my number one priority," said incumbent House District 7A Republican Shannon McMillan. She noted her support for natural resource industries and in reduction of burdensome regulations that discourage job-producing industries from relocating in Idaho. McMillan noted her support for gun rights – including carrying concealed weapons on college campuses – and her strong prolife voting record.
Unopposed in the primary, District 7 Senator Sheryl Nuxoll (R) faces Democrat challenger Casey Drews in November. Nuxoll noted her continued work on issues of protection of religious freedom, prolife legislation, transfer of federal lands under state management, defense of private property and gun rights.
"Our state needs help," she said. "People need to stand up for state sovereignty."
•
Also speaking was District Judge Jeff Brudie, who is seeking re-election. He has been a practicing attorney for 30 years in private practice, and was appointed to the position in 2001. The district covers a five-county area, however, he primarily presides in Nez Perce, Latah and Idaho counties.