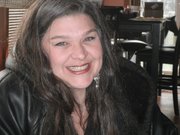 WHITE BIRD — Welcome, welcome May flowers! I've been anticipating a lightning and thunderstorm. Maybe we'll have one before this article even comes out. There's nothing better than God's springtime celebratory fireworks!
The Rebekahs would like to say, "thank you very much, to everyone who supported their Cinco de Mayo dinner." The proceeds to this dinner will go towards helping Barbara Lowe pay for some of the medical expenses that are piling up because of this nasty cancer she's fighting. Cancer is losing by the way, and Barb is kicking ass! Cancer seems to be spreading like the common cold around here. Since I got to dinner too late for the chili rellenos and Darla's awesome cornbread salad, I think the ladies should do a Cinco de June too! I'm telling you ladies, if you cook it, they will come.
I'm excited to report that Lonnie's Corner Deli, (so beautifully named) will be open for business Friday morning at 8 a.m. Larry and a lot of the local carpenters and concrete guys have done all kinds of improvements to Lonnie's property and it looks so nice coming into town now. Having Steve Kernutt revive that building into a restaurant is just wonderful. It will take a while to get the kinks out, just like all new businesses, but the fastest way to do that is to patronize the deli and let Steve know what you think. Steve is a great cook, so support him! It will be open from 8 a.m. to 8 p.m. There will be a light breakfast menu, oven-baked and deli sandwiches, pizza and more. On Sunday he will be featuring a Mother's Day prime rib dinner with all the fixings and dessert for $19.95. There are only four tables in the deli right now, so reservations are suggested. Noon, 3, 5 and 7 p.m. Call 315-7050 or 839-2333. Congratulations to Steve and all of us for a new business in town. Let's support Lonnie's Corner Deli for Steve's family, for our town and for Lonnie Lee!
Men's breakfast will be held this coming Saturday, May 10, at 7 a.m. in the fellowship hall of Pleasant View Baptist Church. There is no charge and all are welcome for the food and fellowship.
This Saturday is the White Bird Emergency Medical Relief Fund's soup/stew cookoff. It will be held in the yard between the Silver Dollar Bar and the grocery store. Set up your booth early, so that you can do all your cooking on site, and be done in time for judging at 2 p.m. Shortly after, we will all be able to eat the chef's creations for a small fee. There is a sign-up sheet at the Silver Dollar, or you can call Millie or Billie at 839-9930. The more the merrier.
The Swiftwater RV Park was loaded with the cutest vintage trailers last weekend. The "Women on the Fly" blessed us with their presence. They supported all our local businesses and shined light everywhere they went. What a beautiful group of women! They take these old campers and fix them all up differently, with different themes that match their personalities. Too funny.
White Bird Days is swiftly approaching. There are all kinds of things that need done in order to pull off our annual event.


Happy Mother's Day to all of you who created all of us!
Happy birthday this week to: Gladine Gortsema, Philip Liggins, Matt Dewey, Vade Holes, Rita Henderson-Mundt, Ruth Blair, David Fehrenkamp, Kami Miller, Tyler Buss, Jamie Gennis, Windy Hickman, Ryan Meachum, Joann Hueth, JJ Reidhead, Kasey Laurence, DeeDee Hallquist, Jenniferr Ghan and Brad Blair.