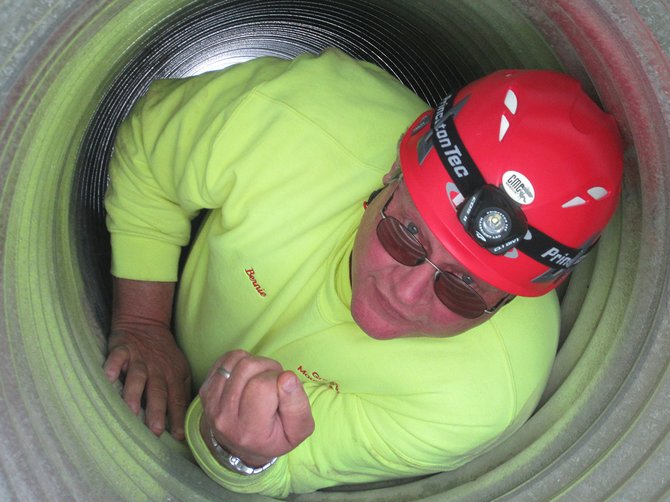 GRANGEVILLE — When there is work to be done in the underbelly of, say, a grain silo or a
sawmill, someone has a job to do. But for the work to go forward without raising eyebrows at the Occupational Safety and Health Administration, someone has to know how to respond to emergencies that might trap workers in confined spaces. And not just any rescuers will do.
Confined spaces can hold unique hazards. They're not designed for occupancy. Some provide maintenance access to machinery. Some are containers whose contents can impede movement or exhaust a person with heat or gasses. Some can trap invisible gas — perhaps an exotic one, perhaps the kinds that would be utterly harmless in ventilated spaces.
The point is: if rescuers show up and don't know how to assess a confined space, they might not be able to help anyone inside.
Enter Grangeville Mountain Rescue Unit (GMRU), a technical team with medical training and a specialty of getting to people trapped in difficult spots.
The past two weeks, GMRU personnel have been learning how to assess and operate in confined spaces; soon, they'll provide a capability this area has never had before.
The training is expected to boost private enterprises looking for not only a way to comply with workplace regulations, but for their employees' safety — so much so that local private companies helped fund GMRU's initial training. By the end of June, GMRU will have taken training on responding to grain engulfment as well, GMRU organizer Brian Adams said.
"All of us are medical emergency professionals," Adams said. "This training is moving our technical rescue capabilities forward."
Providing training are Jim Thoen and Glen Cassidy of Spokane-based Rescue Northwest.