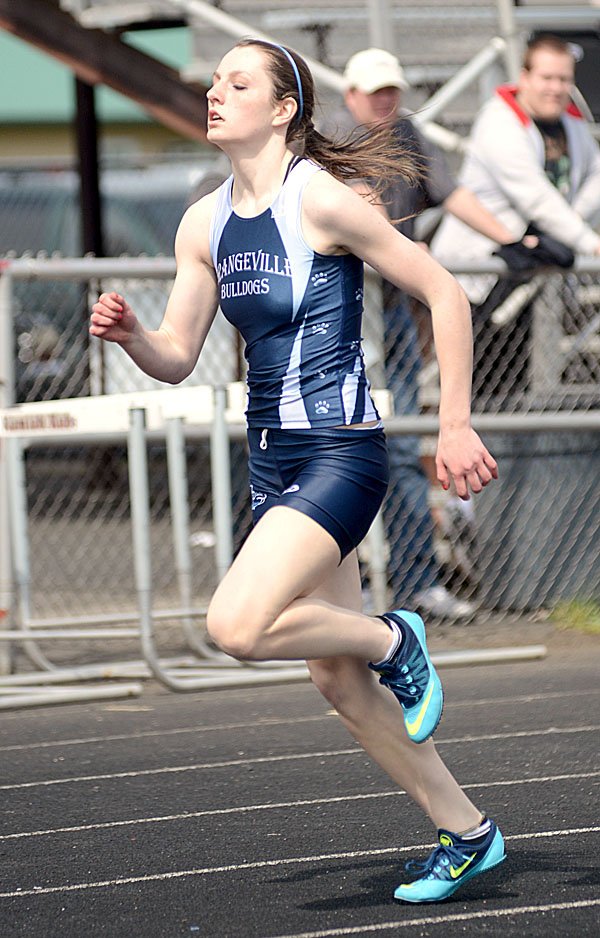 Photo by Andrew Ottoson
Hailey Sullivan
LEWISTON — Last time they crossed paths, Hailey Sullivan saw several of these sprinters from a slightly different angle. Last Thursday, May 1 at the Meet of Champions at Vollmer Bowl, they saw her.
In a 100-meter race held at Moscow three weeks ago, Orofino's Emily Arnsberg crossed the finish more than a half-second ahead of Sullivan; Moscow's Joelle Stephens, Lura Morton, and Bronwyn Schumaker all got there before she did.
But as the season's conclusion draws near, Sullivan has more than closed the gap. With a 13.10-second run, she edged out Morton and Lewiston's Haylee Weeks at the line — and she gave Arnsberg a glimpse at a two-tenths deficit. (Stephens won.)
Sullivan also turned in her second-fastest 200 of the year last Thursday, winning that race outright with a time of 26.54 seconds.
At the 2A state level, Sullivan's top times are in close contention with the best reports by class leader Hannah Brown of North Fremont and Rachel Miller of Nampa Christian, per athletic.net.
Grangeville's Kaleala Bass ran her best 800 of the season so far and set the classification's new best time; she trimmed more than two seconds from her New Plymouth time with a second- place 2:24.26.
Sullivan and Bass also ran the closing legs of Grangeville's winning sprint medley relay, along with Sarah Wilson and Erica Fortin.
Bass placed second in high jump (5-2), and Madison Brown placed second in the triple jump (33-5¼).
A 4x200 relay group of Brown, Maggie Chmelik, Darby Finnegan and Fortin placed third with a time of 1:57.13.
Grangeville's Courtney Cuffe placed third with a discus throw of 101 feet, three inches, and Kamiah's Brooke Eades threw the shot a third-place 36-5½.
Prairie's Mykaela McWilliams cracked the 300 meter hurdles top-three (49.34).
Keely Schmidt, McWilliams, Krystin Uhlenkott and Shayla VonBargen ran the winning 4x400 relay. Their 4:19.08 stands perhaps a few hundredths faster than the previous best 1A report, which was recorded at Kamiah last month by the Nezperce quartet of Jordana Bedard, Sarah Mosman, Maria Mosman and Arika Arnzen.
Uhlenkott placed third in the long jump (15-5½).
Blankenship doubles
Athletes everywhere are nearing peak form, and the competition among them is heating up. After the upcoming round of regionals thins the field, the state's best small-school track and field athletes will come together at Middleton. While the top 1A and 2A male sprinters competed at scattered meets, more than a few could be spotted at gatherings designed as proving grounds for the strongest competition, such as one at Buhl — or, of course, the annual "area best" meet at Vollmer Bowl last Thursday, May 1.
None of the sprinters who were present matched Grangeville's Quaid Blankenship, who put multiple tenths between himself and his nearest competition in winning his 100 (11.32) and 200 (23.21).
Blankenship also placed second in the 300 hurdles (40.30) and ran a leg for Grange-ville's winning sprint medley relay (3:48.06) which featured Danny Paluh, Michael Stevens and Diego Barela.
Grangeville's Drew Lindsley won the discus (163-10) and placed second in the shot put (46-7). Dillon Alder placed third in the high jump (5-8) for the Bulldogs.
In the 200, a scant six-hundredths separated the runner-up, Prairie's Lucas Arnzen (23.33), from third place. Arnzen finished third in the 400 (51.20).
Kamiah's 4x400 squad (Jannik Koopmeiners, Chris Pethel, Taylor McCallister and Jason Lloyd) placed second (3:38.24) only to Lewiston.
Clearwater Valley's Trey Pfefferkorn placed second in the pole vault (12-0).
•
Coming — All the 1A and 2A District I and District II teams are slated to compete together at Kootenai High School Friday, May 9, with field events to start at 2 p.m. and track events to follow at 4:30.