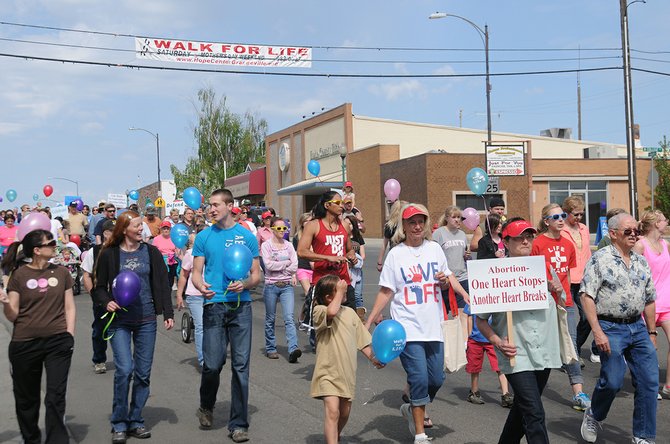 Photo by Lorie Palmer
The annual Walk for Life is set for this Saturday in Grangeville. Pictured here are walkers in 2013.
GRANGEVILLE — Celebrate moms this Saturday, Mother's Day weekend, at the 2014 Walk for Life event in Grangeville. The Walk begins and ends at the Sts. Peter and Paul Parish Center on South "B" Street.
The festivities start with a free breakfast hosted by the Knights of Columbus from 8:30 to 9:30 a.m. Walk registration begins at 9 a.m., and the walk starts at 10 am. The route is approximately two miles, with mild to slightly cool weather expected, so bring a light jacket. Non-walkers can come for the breakfast, then visit in the Parish Center until the walkers return.
The post-walk celebration includes awards for top fund-raisers, presentations, door prize drawings for adults and kids, and free cookies and beverages for participants and supporters.
This seventh annual Walk For Life is a major fund-raiser for the Hope Center facilities in Grangeville and Kamiah. The Center provides free pregnancy tests; confidential counseling about pregnancy; more than 100 free parenting and life skills classes for women, men, teens, and families; and free infant, toddler, and maternity supplies and other things for class participants.
Event prizes are provided by the following: Crema Café, Blue Fox Theater, LeAnne's Flower Shop & Garden Center, Bountiful Baskets, Grangeville City Pool, and Charlotte DeArmond. Event supplies and logistics sponsors include Sts. Peter & Paul Parish, Knights of Columbus, Avista, City of Grangeville, and Gortsema Motors.
For information about or to obtain a donation form, call 983-0093, or visit HopeCenterGrangeville.org.