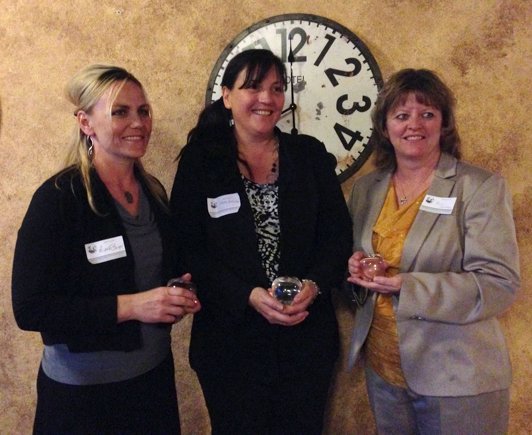 GRANGEVILLE — Grangeville Community Foundation hosted its first Orrin and Eleanora Webb Community Giving Award celebration at The Gallery May 1. The celebration honored the Webbs' generosity to the community and recognized three educators who demonstrated the spirit of philanthropy in Grangeville.
Don Solberg, who was a close friend of the Webbs, spoke about the Webbs' generosity to the community and shared personal reminiscences with the 70 in attendance.

"Orrin and Eleanora decided nearly 40 years before their deaths that they would leave their entire estate to this community. They truly felt that they had received so much from the community that this was their chance to give back in a very big way," said Solberg.
The Webbs left their estate valued at a little more than $6 million to the following organizations: Syringa Hospital, the City of Grangeville to benefit the golf course, parks and recreation and the police and fire departments, Mountain View School District 244, The Kids Klub, Inc., Holy Trinity Episcopal Church, Grangeville Methodist Church, Grangeville Christian Church, Mount Idaho Lodge No 9 and Grangeville B.P.O.E. The Shriners Hospital for Crippled Children, Idaho Elks Rehabilitation Center and the University of Idaho Foundation also received legacy gifts from the Webb Estate.
Mary Schmidt, GCF board member, announced the first Orrin and Eleanora Webb Community Giving Award to Elaine Anderson, Michelle Barger and Bea Edwards. The three GEMS teachers wrote for and received $3,000 grants in 2012 and 2014 from CenturyLink's Middle School Philanthropy program. The program provides funding to help educators teach young people how philanthropic giving supports their community.
For the grant, the three teachers had their students work in small groups to research and interview Grangeville nonprofit organizations and then give presentations to their fellow students about each organization's mission and projects. Students then voted on which organizations would receive a portion of the $3,000 grant funding.
"This student project would not have happened if not for the dedication of these three teachers who went the extra mile and put the abstract idea of 'community' into a concrete learning experience. These teachers valued supporting those organizations that do good work in our community and in teaching what it really means to be part of a true community," Schmidt said.