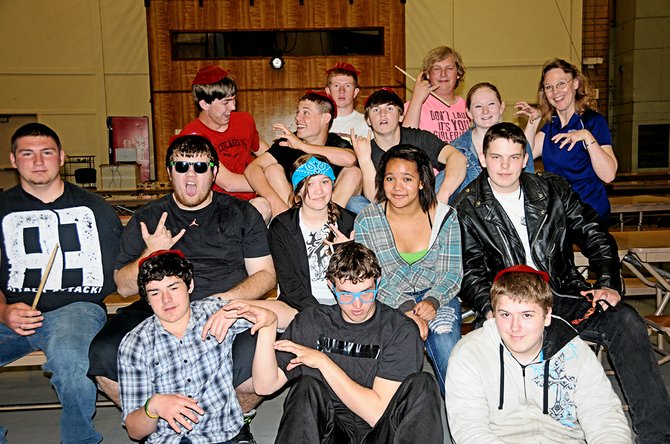 Photo by Lorie Palmer
Students in Kathy Stefani's History of Rock and Roll class at Grangeville High School pose in some '80s music gear while studying the MTV era. MTV debuted in 1981.
GRANGEVILLE — The heart of rock and roll is still beating in … Grangeville.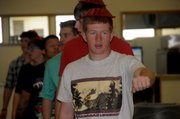 Quiz 13 "I Want My MTV" offered a variety of questions including the following:
What nonstop cable network did Warner Communications launch on Aug. 1, 1981?
a. MTV b. VH1 c. BET
What form of entertainment had post-baby boomers spent more than $15 billion on by 1981?
a. Radios b. Video games c. Record albums
• Punk was seen as "austere." Austere means:
a. Loud and fast b. Strict and forbidding c. Antique
• What MTV superstar had the "soul-bubblegum" hit "I Want You Back" as a child singer on Motown in 1970?
a. David Bowie b. Michael Jackson c. Lionel Richie
• What former gospel singer had an MTV hit with "How Will I Know" in 1985?
a. Lionel Richie b. Janet Jackson c. Whitney Houston
(Answers: 1. = a; 2. = c; 3. = b; 4. = b; 5. = c)
"That's right, one-two-three-four, turn right, foot pound, shimmy, shimmy," said Kathy Stefani as more than 20 students took her lead in the Grangeville High School cafeteria recently. What was the occasion? She was teaching them a portion of Michael Jackson's Thriller dance.
Stefani is in her third year of teaching the college-credit "History of Rock and Roll" class to GHS students.
"It can be tough but it's a lot of fun – very hands-on," Stefani said as students viewed MTV clips of Whitney Houston, Cyndi Lauper, Culture Club and Duran Duran.
May 2, students in the class dressed in a variety of '80s music get-ups including red Devo hats, Madonna layering and an arm hidden to become one-armed drummer Rick Allen of Def Leppard.
"This class is a lot of fun and I really cannot believe how much I have learned," said sophomore Austin Parks. "I have also been introduced to a lot of new music artists, which is really great. I might not have ever heard of them otherwise."
"I like it because it's easy," laughed senior Joey Jones. "Oh, yeah … and it's fun."
"For me it was a way to stay in music when I couldn't fit in band with my schedule this semester," said junior Kate Craig.
The class is open to any grade, freshman through senior, and has the option to offer three college credits for about $160, a bargain compared to what credits cost at most universities, Stefani said.
"I teach the class once a year and it's a lot of extra paperwork but I love it," Stefani said. She also teaches concert choir, Varsity Blue audition-only choir, band and guitar at GHS as well as sixth through eighth grade bands at Grangeville Elementary Middle School.
One reason she likes the class, she said, is that it allows her to teach a wider spread of students.
"I may never see some of these kids in my traditional music classes, but I get them in here and it's great to see different faces and see where they excel," she said. To teach the college level course the instructor has to have a master's degree, which Stefani obtained in 2010.
"It's a very interactive class with quite a few quizzes as well as a paper," she said. "It's a class most kids like. I encourage mostly juniors or seniors to take it for the college credit."
The class isn't all music videos and dancing, either.
"We learn about how music in different periods had an effect on the economy and currently we've been studying the huge impact MTV had on the entire music industry," Stefani said.