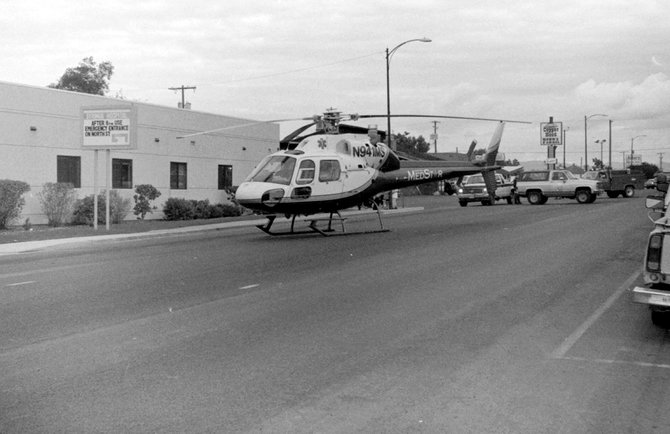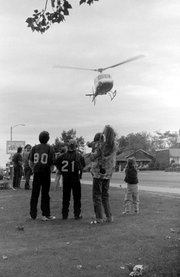 GRANGEVILLE – Main Street traffic in Grangeville plans to move into the third dimension.
Officials with Syringa Hospital met with the Grangeville City Council last week on their proposal to develop a helipad at the former Ernie's Steakhouse corner site on Main and South C streets. Its purpose is literally a matter of life and death, as hospital staff look to decrease the time burned up in patient transfer to improve survival rates and overall care.
"We're trying to save minutes to save lives," said Bill Spencer, Syringa Hospital facility director, at the May 5 meeting.
Plans are to construct a 30-by-30-foot concrete pad with lights and a lighted windsock, enclosed within a chain link security fence and possibly cement barriers. Patients would be transported by gurney from the hospital main entrance across Main Street to the helipad.
Hospital CEO Joe Cladouhos said they would be talking with Idaho Transportation Department (ITD) officials this week to discuss the proposal and also on their ideas for facilitating patient transport across Main Street – which is also State Highway 13 – with addition of a mid-block crosswalk and also for hospital staff to redirect traffic during helicopter operations. They will also be meeting with homeowners within a 200-foot radius of the proposed helipad to discuss plans, part of which will be directing helicopter traffic to come in over the hospital and then due south to minimize flights over residential areas.
Chief pilots with both LifeFlight and Medstar say the site "looks good," Spencer said, for exit and entry, and they are requesting placement of ball safety markers on adjacent above ground utility lines.
Cladouhos estimated the project to cost less than $10,000, and it would be set for completion in July or August, after which it would depend on availability of helicopter pilots to test the helipad and program it into GPS coordinates before it would be placed in service.
On average, Syringa currently receives two to three helicopters a month at the Idaho County Airport, according to Spencer. In redirecting that loading/unloading area from the airport to adjacent to the hospital he estimated it would save between 15 to 20 minutes in patient transfer procedures. That extra time can be critical, especially for stroke and STEMI heart attack victims.
"And not only would it save lives," he said, "it would reduce disability," such as with brain injury for stroke victims.
Council was generally in favor of the proposal, though Mayor Bruce Walker also expressed the city had minimal involvement in the issue as this involved other jurisdictions including ITD and the hospital itself.
"Traffic would be a huge thing," Walker added, especially during peak times and "especially that intersection at C Street."
At the meeting, a citizen raised concern with the location and on whether there might be a better off-street location, to which Spencer replied, "Nothing that we own." According to information from both Spencer and Cladouhos, the long-term vision is to have helicopters land on the hospital, but this would require structural additions and also an elevator, as well as the financing.
Concerning the present proposal, "We feel this would be a good solution for us for at least several years," Cladouhos said.