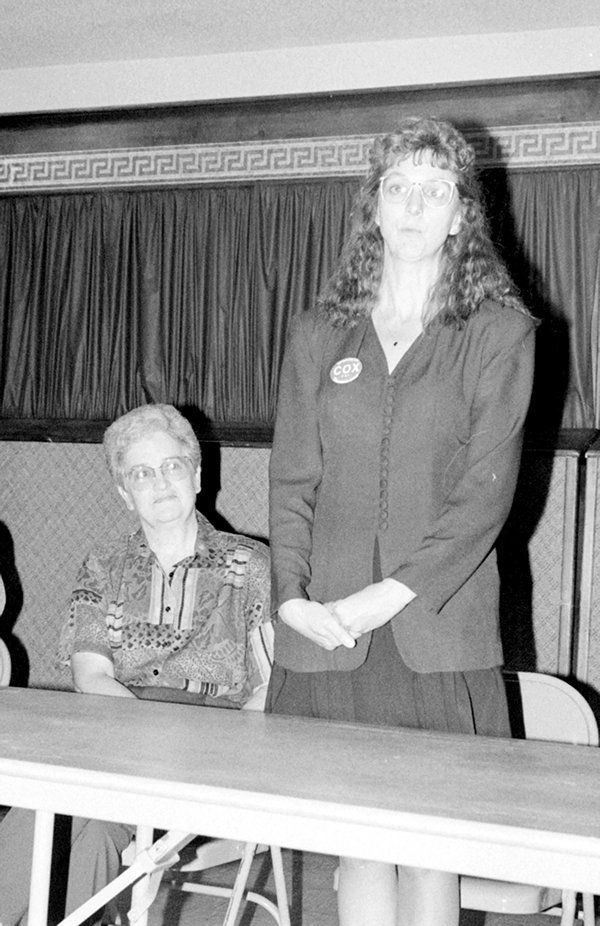 10 YEARS AGO
MAY 12, 2004
•Kimberly Mullins of Louisiana was recently reunited with her children, Mathew, Marianne, Katie and Samantha. The children's father, Roy Frances Mullins, 47, of Woodland, also known as Roy Miller, left Louisiana with four children in September of 1999.
•Marilyn Becker, RN, was honored for her 40 years of service at St. Mary's Hospital in Cottonwood.
20 YEARS AGO
MAY 12, 1994
•The Celebration Trio will perform two concerts in Idaho County this weekend, with an offering of classical and sacred music.
The trio is composed of Leroy Waltmann on piano, Becky Nelson on cello and Carletta Allen on violin.
30 YEARS AGO
MAY 9, 1984
•Children exploring a cave near Lucile Thursday discovered more than 200 pounds of explosives left over when the Civilian Conservation Corps was constructing the Cow Camp Road in the early 1930s, Sheriff Rodger Laughlin reports.
Deputy John Huston was called Thursday to investigate opened boxes of explosives found in a cave, Laughlin said.
40 YEARS AGO
MAY 15, 1974
•In the girls' state track meet, Class B at Boise on May 11, the Grangeville girls were represented by four young ladies in the 75- and 100-yard dash and the 440 relay.
Shelly DeHaas placed third in the 75 and fifth in the 100. The 440 relay team composed of Joanne Kingma, Julie Solberg, Brenda Lea and Shelley DeHaas did not place.
50 YEARS AGO
MAY 14, 1964
•Leo Whitcomb, Grangeville Chief of Police who has served the community for nearly 16 years, has given his resignation to Mayor George Klein. He is leaving the police force to enter business for himself. He will open Leo's Power Supply.
60 YEARS AGO
MAY 13, 1954
•The new academy at Cottonwood will be dedicated Sunday. The new St. Gertrude's was completed April 1. It was built for the accommodation of 200 students.
70 YEARS AGO
MAY 11, 1944
•Mayor Al J. Wagner earnestly requests everyone to get in the proper spirit of cleanup week. It will not be a big job to keep Grangeville the garden spot of America.
80 YEARS AGO
MAY 10, 1934
•An extensive war against rats was launched in Grangeville by T.H. Cooper, government trained rodent control expert.
•HARPSTER – The schoolhouse was crowded for the first dance held there in several years.
90 YEARS AGO
MAY 15, 1924
•The Commercial Club entertained an auto caravan of 50 businessmen and their wives from south Idaho at a banquet at the Imperial Wednesday evening, the caravan being the first official delegation to visit north Idaho via the new north and south highway, just completed.
100 YEARS AGO
MAY 14, 1914
•Everybody who ever traveled on a public road is invited to the May 22 meeting when D. Ward King, the famous Missouri split log drag expert comes to tell us and show us how to build and maintain perfect dirt roads with the aid of the split log drag.
110 YEARS AGO
MAY 12, 1904
•First class round trip tickets for St. Louis World's Fair will be $61.50 via the O.R. & N.
•Young Denver people are preparing the ground for a tennis court.
•Wanted, a lady to strip tobacco. Light easy work. Apply at once at cigar factory, Grangeville.
120 YEARS AGO
MAY 11, 1894
•There is talk of organizing a ball club in Grangeville. Dr. Dillon is an expert in twirling the sphere and without doubt we have talent enough to put a nine in the field superior to any in north Idaho.