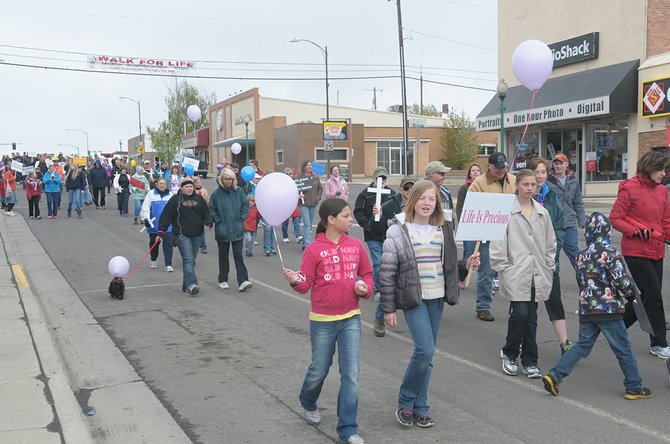 Photo by Lorie Palmer
The seventh annual Walk for Life drew nearly 200 participants in all Saturday, May 10, in Grangeville. All proceeds from the event go toward Hope Center (Grangeville and Kamiah).
GRANGEVILLE — Hope Center held its Seventh Annual Walk for Life Saturday, May 10, with 165 walkers registered to take part, plus 15 volunteer workers.
A total of $5,192.60 was raised, which will help fund the free classes and other services at the Hope Centers in Grangeville and Kamiah. Prizes were given to the people who gathered the most donations: Lester Downhour, Kelly Turney,
Clarissa Stevens and Olivia Nichols, as well as a variety of additional door prizes.
Pro-Life speakers at the end of the walk included Pastors David Hunt and Bob Lowry, Kelly Turney, Josh Lustig, Karly Ahrens and Angela Riener. Pre-teen Emma told attendees of how she almost lost her life to abortion, and then the joy as her birth mom made the decision to place her for adoption.
A selection of the speeches can be found on the Hope Center website: www.HopeCenterGrangeville.org