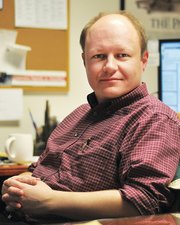 Voting is important, but if we're being serious here, we could really care less if you put your hand to a ballot or not next Tuesday, May 20.
That's not our editorial opinion. That's our state talking.
Now this may be surprising for those who read Governor Butch Otter's May 7 statement made during a Lewiston "get out the vote" rally: "During the last election, we didn't get the turnout we'd like to see," Otter said. "We only had about 23 percent of registered voters come out. For democracy to work, we need greater participation than that."
Let's say the Gov is being sincere in this sentiment. Despite that, the state continues to function largely on the apparatus and mentality of — at best — two decades ago: voting at physical polling places to minimize the chance of voter fraud. And don't sell us on "Idaho Votes" as a proactive campaign by the Idaho Secretary of State's Office to whip up election participation; that program languishes on the S.O.S. website hoping to snag stray passersby like gum on a hot sidewalk.
We'll be the first to say we truly enjoy the election day polling place visit; it's a piece of nostalgia to mingle with neighbors as we enjoy the mutual participation in our political process. But is the need to continue grasping that tie to a simpler time of community-mindedness worth stalling out electorate involvement? Sorry, but no; time to drop it like a hot coal.
With a new Idaho Secretary of State in the wings for the start of 2015, what should also be new is an Idaho voting system that encourages participation. Study data and working systems are out there for Idaho to work from and emulate. Here are two areas of progress for Idaho to consider emulating:
• Competitive races drum up voter interest: What U.S. consumer would stand for just two choices of a car or appliance, but yet we're expected to walk fat, dumb and happy to the polls for this political pittance? The burden for this solution lies with the moderate voter base – dissatisfied with gridlock due to elephant and donkey posturing – in ending its default support of either Democrats or Republicans, and putting more thought and dollars into both candidates and parties where consensus is sought to achieve real-world solutions, rather than rehashed preaching of tired ideology.
• Vote-by-mail: Oregonians, for example, receive an informational pamphlet three weeks before the election, followed a few days later by their ballots. Election day is not just one day, it's several, according to Oregon Secretary of State Kate Brown: "Civic engagement is much more meaningful and expansive when you have a ballot in hand for two and half weeks," she said.
And let's embrace the age we live in that deals with the fantastic connectivity through electronic devices, along with the busy, complicated work and activity schedules of today's individuals and families. Everything from voter registration to voting itself should be made as convenient and user-friendly as the tasks we already do online – from paying property taxes to purchasing goods and services.
Governor Otter is right; we do need greater participation if our political process – if our state and nation – is to work right. But in order to restore participation, we need to give voters the tools, and the reasons, to do so.