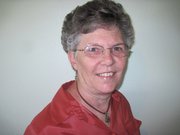 COTTONWOOD — Father Meinrad, chaplain at St. Gertrude's Monastery and St. Mary's Hospital, celebrated his 50th anniversary as a priest last week. Everyone who knows and loves him wishes him well.
I hope everyone had a great day yesterday on Mother's Day. I sure did. I spent the day with the kids and got to do my favorite thing for Mother's Day — go mushroom hunting. The weather cleared off and we even had some sunshine.
I hope everyone will be in Cottonwood for the yard sales this Saturday, May 17. The clown team will again be having a yard sale and barbecue serving burgers and German sausage. There will also be a baked food sale. This is their eighth year to do this. Our compliments to the team for their dedication to this worthy cause. Map proceeds as well as all the rest of the income goes to Relay for Life, which is the American Cancer Society. So far, there are 22 yard sales signed up.
New books continue to come into the library. Among them are some new large print books. A book that should be of interest to many people in this area is written by Marion Shinn, a local author. He is the brother of Maurice Shinn and the story is about their family and life on Joseph Plains and Doumecq area.