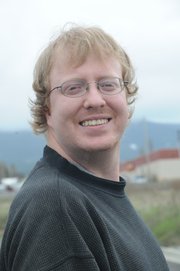 "...the life of man solitary, poor, nasty, brutish, and short."
— Hobbes, Leviathan
During another era, this would not need to be written. No era prior to our own could rival the abundance of services available in our markets, nor could anyone of Hobbes' day imagine how we spend our free time. If Hobbes were here to compare his day to ours, he might say all our time appears free. Our era is ripe with the fruits of civilization, distant from Hobbes' harsh reality.
Here's an example of how easy a formerly hard thing — travel — has become: Last weekend, having departed Grangeville during the pre-dawn hours in order to reach the state track meet in time to do my chosen work, the fuel pump in the Free Press van failed and I rolled to a stop about a mile north of Council.
That brings me to one reason to work hard in our relatively cushy world: To be able to help your neighbor when he's in a jam.
On Lappin Lane I met a man who tows for a living, who helped me push my crippled auto clear of the lane of traffic. Then, I suppose out of pure generosity, he said his competitor could offer a better price for a short tow into town.
And that brings me to the second reason to work hard: When you figure out how to provide the kind of goods or services for which you can get paid a fair day's living, even strangers benefit.
I'm not sure if Hobbes ever got stranded, but I think he understood the importance of towns: I was stuck in Council all day, but thanks to the auto repair people and gas station attendants, there was nothing solitary, nasty or brutish about my time there.
I'll close with a reason to work hard beyond charity and profit: self-improvement.
Hobbes wrote that people are nearly equals in body and mind. Perhaps, but how much more valuable, then, is the effort to set oneself apart — if only by tenths of a second or fractions of an inch?
Some of the area's best examples were at that track meet. The work the area's state champions have put into their bodies is praiseworthy.
I hope all our area athletes have been working just as hard on their minds.
I'm starting my fourth year manning the Free Press sports page. I'm here because I think celebrating the work these kids put into distinguishing themselves from their peers is a great way to spend my time.
To everyone who helps make my chosen line of work possible: Thank you.