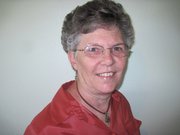 COTTONWOOD — Cottonwood is now on the map! An amazing daylight bank robbery took place on Friday afternoon, May 16, at the U.S. Bank. As soon as I heard about it, I rushed to the window to see if the robbers were galloping by on their horses with the money sacks flopped across the saddle. I didn't see a thing. I guess I watch too many western movies.
Sunday morning at about 9:15 a.m. a funnel cloud was spotted at the north end of Cottonwood Butte not too far from Ferdinand. It was raining hard and the funnel formed out of a cloud mass. It got bigger and dipped closer to the ground but never touched down. Then it dissipated and went back up into the cloud.
The library had a successful yard sale on Saturday. Almost everything was sold. Proceeds will go toward new office equipment. A work crew from NICI made light work of setting up and taking down. Those guys do a great job.

The library will be closed on Saturday, May 24, due to the Memorial Day weekend. That way all our librarians can be with their families and celebrate a day we remember fallen soldiers, as well as family members who are no longer with us.
Summer Mass schedule at Holy Cross in Keuterville will begin next Sunday, May 25. There will be Mass every Sunday evening at 7 p.m. all throughout the summer until Labor Day. It is so nice of Fr. Paul to give us another option for Mass on the weekend.
Prairie Pirates boys baseball team won three loser-out games in a row to take the state championship. It was an impressive win for Kyle Westhoff and his young team, as Prairie didn't have a team the last two years. Congratulations, Kyle and the Pirates! Prairie girls track team came home with two all-time records broken in two of the events. Good job, girls!
Summit Academy staff, students and some of the parents met on Cottonwood Butte for a walk-a-thon to raise money for the school. Older students walked about four miles, while the younger students walked approximately half the distance. Felix Nuxoll and Virgil Wassmuth provided trailers for a hayride. All met for a barbecue afterward. What a great way to get exercise and have a chance to get out in the woods for fresh air.

Congratulations to all the graduates from Prairie High School and Summit Academy. Good luck to you in the future.
The kingbirds got back just about an hour after I sent in my article last week. They usually come on May 10, but they were two days late, probably had their flight delayed by rain. The Says Pheobes have hatched already and so have some of the purple martins. I love watching all of them.