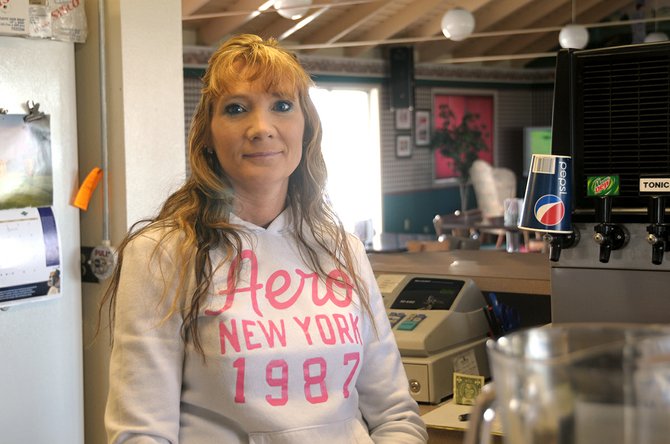 Photo by Lorie Palmer
Kristi Dumars is the new face at Grangeville Country Club.
GRANGEVILLE —Grangeville Country Club's kitchen and pro shop are under new management with a familiar face.
Kristi Dumars has been hired to run the golf course kitchen and club area. She previously worked at Oscar's Restaurant and Syringa Hospital.
"I also got to be a stay-at-home mom," Dumars said, saying her three sons are grown.
However, she knows her way around the kitchen from "way back."
"I grew up peeling potatoes for my Grandma Eldora with the Eat Shop and also the Shamrock Café," she said. "I've spent my life around food."
Dumars has been at GCC for two weeks now and said she enjoys the people.
"I see so many faces out here – it can get really busy," Dumars smiled.
One thing she wants the public to know is that everyone is welcome to eat at the clubhouse.
"We're open from 8 a.m. to dusk and we have a menu of a variety of items plus specials, desserts and drinks," she said. "Everyone is welcome to come out and eat – you absolutely do not have to be a member."
Menu items include chicken strips, shrimp basket, grilled cheese, fish and chips, hot dogs, hamburgers, salads, spinach or basil wraps and a variety of additional items.
Kat Scofield is Dumars' assistant. The club is available for rent for functions such as class reunions, weddings and other get-togethers and is open seven days a week.
"I understand the kitchen aspect but it's a learning curve for the pro shop," Dumars smiled. "I'm going to learn to golf when I have some slow time so I understand better what to suggest in the pro shop if anyone needs a specific tee or something like that."
For questions call Dumars at Grangeville Country Club at 983-1299.