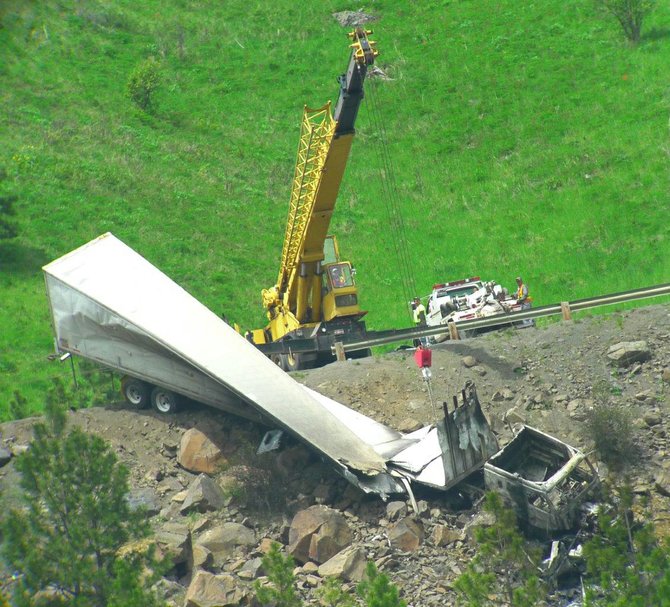 The victim in last week's fatal semi-truck crash near the White Bird summit remains unidentified, pending a forensic dental examination to be directed by the Idaho County Coroner's Office.
Idaho State Police is continuing its investigation into the Thursday evening, May 15, single-vehicle crash reported seven miles north of White Bird on U.S. Highway 95 at milepost 230. Cause is as yet undetermined, according to ISP Lt. Allen Oswald, but so far investigators have found no evidence of steering input or braking by the driver prior to the crash.
The incident was reported at 8:37 p.m., according to an ISP report. The 2013 Volvo semi and trailer were northbound on the White Bird grade, and near the top the vehicle struck the guardrail and went off the right shoulder. The truck cab shortly became engulfed in flames. The driver succumbed to his injuries.
"It was fully involved by the time we got there," said Chief Dan Tackett, Grangeville Rural Fire Department, encompassing the cab and a portion of the trailer. The driver was presumed deceased at this point, so crews focused efforts on containing and controlling the fire, he said.
Nine firefighters, two attack trucks and a supply tanker were deployed to the scene where, due to the rubber and plastics involved, foam was applied to the blaze. One challenge was the steep, rocky terrain, and Syringa Extrication assisted by helping rope firefighters in and out of the fire area.
Terrain also created another safety danger, according to Assistant Chief John Sangster.
"As the fire progressed, the truck was moving downhill," he said, so crews were directed to stay uphill from the semi and trailer were it to suddenly collapse or slide.
Above the scene, a 4,000-gallon-capacity snap tank was deployed in the event crews were to have to tackle a cargo fire, according to Sangster; however, the trailer was apparently empty. Tackett added due to spring wet weather this helped prevent the fire from taking off through the adjacent vegetation.
Firefighters were on scene nearly four hours, once for the initial call and then a return trip to extinguish a flare-up on the vehicle tires. Tackett complimented the "excellent job" by the Idaho County Sheriff's Office in controlling traffic and safety through the congested incident area.
The following day, Friday, a crew with Forest Wrecker of Lewiston spent nearly nine hours on scene in recovering the semi and trailer off the hillside, according to Lt. Oswald.
"Safety was the key," he said in recovery progressing slowly, both for concern of personnel on scene, as well as to keep the vehicle intact and not lose it over the embankment.
Also providing scene assistance was the Idaho Transportation Department and the Salmon River Rural Fire Department.