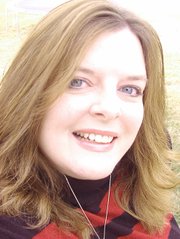 A Kids Quilt Camp for children 8 and older is set for Monday through Friday, June 9-13, 9 a.m. to noon each day at Home Grown Quilts and will be instructed by Jody Hoogland. Each student will make his or her own tumbler quilt. Kids will learn basic quilt-making and should complete their quilt by the end of camp. The finished quilt will be 46"x42". Class fee is $75 which includes all fabric for quilt top. Stop by Home Grown Quilts at 207 W. Main Street in Grangeville or call 983-5585 or 983-0254.
•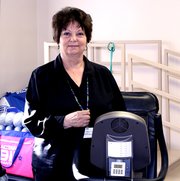 Animal Arc Lost and Found would really like to thank Sharon Blackmer's 4-H group, "Hold Your Horses." They did a fund-raiser and collected some cash and lots of dry dog and cat food. How great that there are folks of all ages who want to help out! If you are interested in 4-H, call Sharon at 507-0443 and get on board!
Thanks especially from Melinda, Dori, Karen and MaryAnn.
•
Karla Enneking was chosen as the April Employee of the month for St. Mary's Hospital.
She has worked in the cardiac rehabilitation department at SMH since 2007. Prior to that she was on the St. Mary's ambulance crew for more than 20 years.

She volunteers with the Syringa Hospice program and the ICare program at St. Mary's Hospital and teaches CPR and First Aid classes and does AED (automated external defibrillator) training. She enjoys all types of wood working and crafting. She enjoys going on 4-wheel rides with her dog and just being outside and has two children and four grandchildren.
•
I watched a show on PBS about the Oregon Civilian Conservation Corps (CCC) which ran 1933-42. Did you know more than 3.5 million people – mostly young men – worked in the CCCs? It started out desegregated and then constituents back East complained (sounds like some nowadays Forest Service decisions) and the government felt forced to segregate so there were actually separate CCCs for whites, blacks, American Indians and military veterans.
•
Congratulations to Lindy Warden, Kamiah High School senior, who won the title of Ms. Northwest Indian Youth Conference. She attended the gathering in Spokane Valley March 31-April 4. She is the daughter of Etta Axtell and Bill Warden.
•
Mark your calendars! Food and music will be part of an event set for Saturday, May 31, to help raise funds for Warbird Weekend. The event runs from 7 to 9 p.m. at Twisted Cellar on Main Street in Grangeville. All proceeds from this event will go toward bringing pilots and historic aircraft to the third annual Warbird Weekend event, set for July 12-13 at the Idaho County Airport in Grangeville.
For questions call Melisa Bryant at 983-8302 or Lindsay Denuit at 451-5426.
•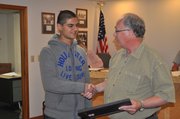 Amrit Singh was eliminated at the National Geography Bee in Washington, D.C., but we are proud of Amrit for making it all the way to nationals! Good job representing Grangeville Elementary Middle School and the whole community.