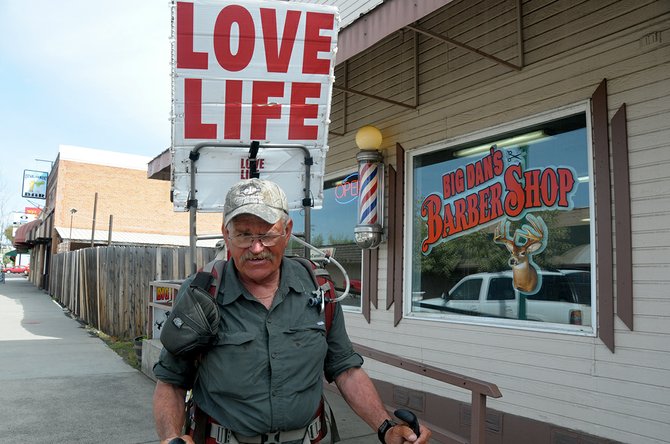 Photo by Lorie Palmer
Steve Fugate walks across the United States to honor life and in memory of his son and daughter.
GRANGEVILLE — Steve Fugate has logged more than 36,000 miles by foot in the past 15 years.
"I was on my first walk along the Appalachian Trail when I got the news I lost my son … to suicide," Fugate said. He stopped at Big Dan's Barbershop where Dan Gautney cut his hair last Thursday, May 15.
In 1999, Fugate had left his business in Vero Beach, Fla., for his son to run. His thought was, the following year his 26-year-old son could walk the Appalachian Trail while he took care of the home front.
"Things don't always work out the way we think they will," Fugate shook his head.
He began walking with a sign that proclaims, "Love Life."
It's a simple message and one Fugate doesn't tie a specific definition to other than to simply … well, love life.
"Six years after my son died, my daughter died of an accidental drug overdose," Fugate, almost 68, choked back the tears. "I walk to keep my sanity."
He said his simple message has touched lives as he has been interviewed for NPR for several different segments as well as by The Weather Channel and various other forms of media along his routes.
"I was told after one NPR radio segment they got calls and 10 people heard my raspy little voice and made the choice to not end their lives," Fugate smiled. "That's what it's all about."
So he walks – not exactly in memory of or to honor but rather to prevent anyone else from going through what he has gone through.
"You cannot let anyone tell you how to grieve," he said. "This is my way. Just don't tell me you're having a horrible day because you had three flat tires. That's an inconvenience. A bad day is losing a spouse, a sibling, a child. That's bad for more than a day. It's always bad, they're always gone."
When asked why he walks, aside from what he mentioned here, Fugate said he always tries to get the message out that "taking your own life is self-centered."
"People don't think about this final response to a temporary problem," he said. "It is very self-centered and doesn't take into consideration the loved ones left behind. If people stop and think about that maybe they can continue on and find another way."
Fugate was on his way to meet with smokejumpers in Grangeville. He was invited by the father of deceased smokejumper Luke Sheehy of California who was killed in 2013 while fighting a fire in the Saddle Back Fire Wilderness Area.
"He died when he made a jump," Fugate said. "I don't know what I can say to anyone to make a difference, but I can be there."
Fugate said he plans to continue walking the United States and bring forth his message, "love life."
"Basically I just want people to stop and think about what a gift life truly is," he said.
To follow Fugate log onto www.LoveLifeWalk.com or go onto the Facebook sites www.facebook.com/stevelovelife or www.facebook.com/LoveLifeWalk.