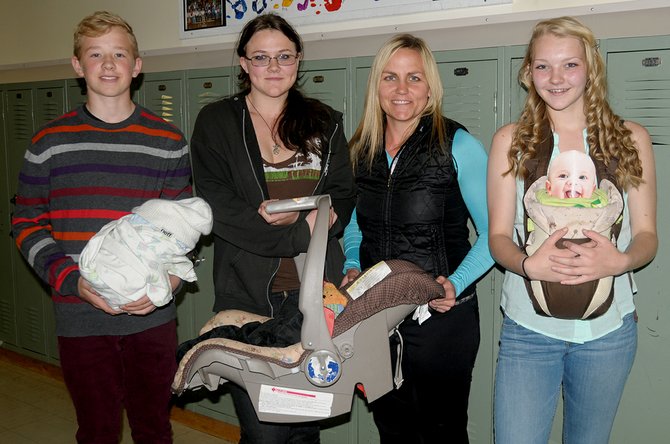 Photo by Lorie Palmer
Eighth grade students and their teacher (L-R) Garret Malone, Shauna Calhoun, Mrs. Michelle Barger and Mikayla Ruzicka pose with their flour and/or sugar sack babies.
GRANGEVILLE – "I'm not having babies until I'm ready," said eighth grader Nikki Parks as she lugged a child carrier into her evening dance class. "This is getting old."
Bingo! At least that's what Grangeville Elementary Middle School health, physical education and science teacher Michelle Barger would say.
"I hope it's working," Barger laughed.
Eighth graders in Barger's growth and development class have been seen during the past week carrying around their faux-babies – 10-pound sacks of either sugar or flour.
The weeklong project is part of Barger's class and an overall part of Mountain View School District's abstinence education.
Barger started teaching at Clearwater Valley in Kooskia in 2001.
"Growing up I had done the egg project where you take care of an egg but this flour or sugar sack baby seemed much more appropriate – it's about the size and weight of a baby and a little easier to handle than an egg," she said.
"I am never getting married or having kids," laughed Mataya Smith, lugging her baby in a carrier.
"Yeah, this is heavy," added Hailey Russell. "I am not having kids." She, Park and Smith all had to take their "babies" to dance class last Monday night.
"This is pretty embarrassing," said Morgan Crea, packing her sugar baby in a front carrier at the Kamiah Middle School track meet May 3.
The project is designed to make kids think about the responsibility a baby is.
"They are supposed to take them where they go with only limited 'childcare,'" Barger said. "They are required to keep a log, get up at night, spend time with their child."
In addition, each student is required to fill out an expense form that lists all the needs for a child for a year including insurance, food, clothing and supplies, as well as go over a decisions and goals worksheet with parents.
The worksheets have students discuss with their parents what they will do in order to remain abstinent.
"They discuss what they want to achieve – short and long-term. Things such as playing sports in high school or getting their driver's license," Barger explained. The program teaches that remaining abstinent is the only sure way to keep from getting pregnant and contracting diseases as well as being able to reach goals.
Students end their week watching the PBS Nova special "The Miracle of Birth." For some of the activities and viewing, boys and girls are split into two groups while for other activities they remain in co-ed groups.
"It depends on what we are talking about and seeing," Barger explained. "Sometimes you need the balance to keep it serious enough and sometimes you need to separate the kids so the boys and girls can each offer up the questions they want to ask without being afraid or embarrassed."
One activity last week had several of the students saying the class was their "worst ever."
Students had to listen to an audio recording of a baby crying for their 35-40 minute class period while they comforted their babies and walked the room.
"One of the main goals is to show them they are not emotionally or physically ready to be parents so the best choice is to remain abstinent," Barger said. "I hope that's the message they are receiving so they can reach all their goals."