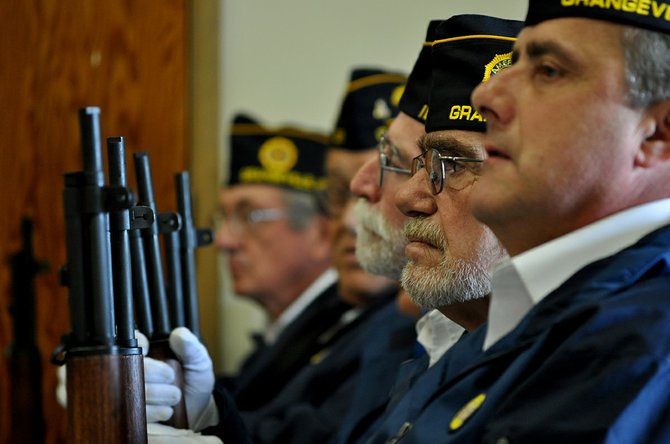 Photo by David Rauzi
Members of the American Legion Post 37 rifle squad await their honor duties at Monday's Memorial Day ceremony at Grangeville High School.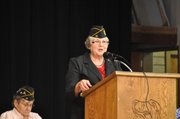 GRANGEVILLE – The crack of rifle shots completed honors given from a grateful community in Grangeville on Memorial Day, echoing tributes held in communities and at cemeteries across the county.
Monday's May 26 ceremony in Grangeville, presented by American Legion Post 37, drew nearly 90 people for tributes in poem and music to members of the U.S. armed forces, and also police and firefighting services, who died in the service of their community and country.
Guest speaker was Katrina Bentley, colonel (retired) U.S. Army Reserve, and first female American Legion state commander. She spoke on those who answer their country's call for service and on sacrifice, highlighting Michael L. Earp of Grangeville, who was killed in combat, June 18, 1969, in Vietnam. Our nation's thanks to Earp, she said, "and all those who rest eternally, because they gave their lives for our freedom."
Bentley challenged those in attendance that day to thank a veteran for their service, and to also tell their loved ones that they are loved and appreciated.
"Pay it forward to those you share your life with, and the men and women who serve in our military," she said.
As part of the ceremony, six veterans were provided Quilts of Valor by the Sew Help Me Quilt Club: Bernie Golz (Navy, WWII), Wendell Thomas (USMC) Vietnam, Kevin Cvitko (Army/Air Force, Desert Storm), Troy Steinfort, (Army/Air Force, Afghanistan), James Schmidt (Army, Vietnam) and Michael Musegades (Navy, Iraq/Bosnia). Later that day, Cottonwood veterans — all served in the Army in Korea —were honored with a quilt: Fred Seubert, Richard Uptmor, Ron Sonnen and Harold Schacher.
Monday's ceremony featured music by Mary Kaschmitter, Tanner Haage and Chase Haage. Invocation was by Pastor Mike Musegades. Roberta Simonsen read the poem, In Flanders Fields. Ceremony was directed by Jinny Cash, commander, American Legion Post 37.