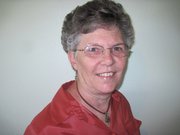 COTTONWOOD — I hope you all had a great Memorial Day. The cemeteries are all decorated and the weather cooperated and the ceremonies were held as scheduled. We owe a debt of gratitude to all the soldiers in every branch of the service who gave their lives that we might be free. It is the day to honor America's Heroes.
Preschool Developmental Screening for children ages birth to 5 years will be held Thursday, May 29, from noon to 3:30 p.m., at Prairie Elementary School. To schedule an appointment call the school at 962-3521.
Summit Academy, "A Small School With a Big Heart" is offering preregistration by June 30 for the next school term. The school exists to support and assist the parents as the primary educators of their children. Advanced ED is available. Call the school to register students for preschool through 12th grade at 962-5650 for an education plus much more.

St. Gertrude Monastery is holding an individually directed retreat with optional faith sharing, "Come to the Quiet." Dates are May 30-June 6. Relax in God's presence surrounded by natural beauty. Contact www.Spirit-Center.org or call 962-2000.
A follow-up from last week: The posse did catch the bank robbers.

Family Camp – less than a week left to register as the deadline is June 1. Idaho Family Camp will be held July 17-20. It is a gathering of Catholic families in a faith filled time of Daily Mass, the Sacraments, prayer and learning while having "good-ole" outdoor family fun! Family Camp began in 2007 when five families and one great priest thought it would be a wonderful idea to camp together in the wilderness of Idaho and share "Faith, Family and Fun." wwwfamilycampidaho.org/register.
Safe Sitter classes for girls and boys age 11 to 13 will be held July 9 and 10. The classes are from 9:30 a.m. to 4 p.m. both days. Registration for the two-day program, sponsored by St. Mary's Hospital, is open until June 9. Register early as class size is limited. The Safe Sitter program is a medically accurate program that teaches young adolescents how to handle emergencies when caring for younger children.
The cost is $30. To register your son or daughter, or your child's babysitter, call Cheri Holthaus at 962-2327 or Brenda Kaschmitter at 962-3251.
To successfully complete the Safe Sitter program, the students have to pass a rigorous practical and written test to show that they have mastered the key concepts and have the skills necessary to handle an emergency.
Only two more weeks of school! Then Grandma can play with the grandkids any day we want.