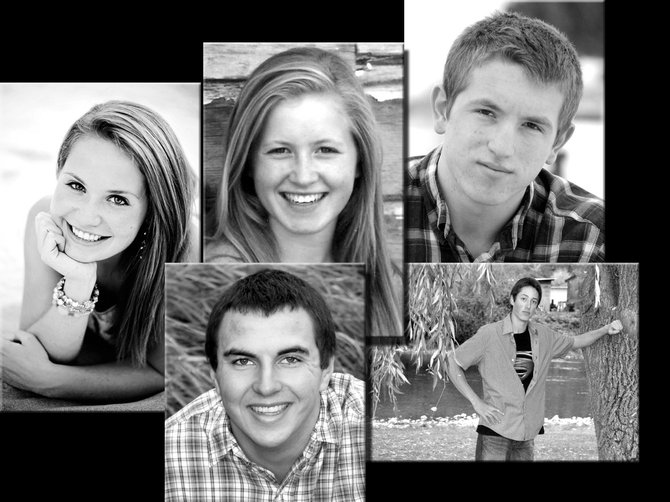 COTTONWOOD — Prairie High School will honor its top 2014 graduates at its ceremony set for Friday, May 30, 7 p.m.
Co-valedictorians are Rebekah Bruner, Andrew Cochran and Nicole Wemhoff while salutatorians are Dakota Wilson and Clark Bruno.
Bruner will attend Centre College, a private liberal arts school, in Danville, Ken., where she will major in biology through a pre-med program. After she obtains her bachelor's degree she plans to attend medical school and become a pediatrician.
"My parents have been huge contributors to my success," Bruner emphasized. "They have always held high expectations for me and encouraged me to set high goals for myself. As I chased these goals, they were a perfect support system, behind me every step of the way. I also owe my success to my teachers at PHS. Their unconditional faith in me helped me to believe in myself and push for higher goals.
Cochran has been appointed to the United States Military Academy at West Point, N.Y. He will attend there for four years probably studying international affairs. He hopes to commission as an infantry officer and apply for special forces selection.
"My family has always encouraged me to strive for excellence in whatever I do," he said. "They told me to go beyond the local norms of school and sports to see what else the wide world has to offer. Thanks to them I have been exposed to many different walks of life showing me anything is possible. Life's challenges are a system of mind over matter; so if you don't mind, it doesn't matter."
Wemhoff has plans to attend the University of Great Falls in Montana.
"My parents have helped achieve my success and have supported me through all my years of school," she said. "They always come to all of my sporting events and encouraged me to do my best in all that I do. I thank them for all the love throughout the years."
Wilson will attend the University of Idaho where he will major in chemical engineering.
"My parents have always supported me and helped me along the way," Wilson said. "Also, sports have helped me achieve success. You need to balance studying and hard work with something you enjoy doing."
Bruno plans to attend Lewis-Clark State College where he will major in sports administration with a minor in coaching.
"Being determined and working hard has helped me achieve my success, because without those two things nothing would get done properly or on time," he said.