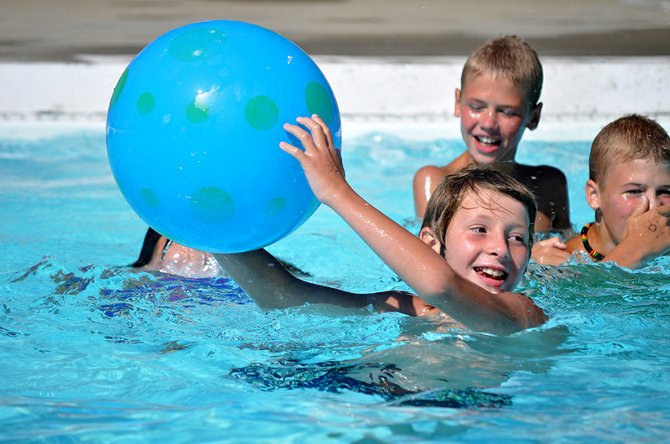 GRANGEVILLE — The city listened – pool hours are extended.
"Now the public needs to respond in kind," said Mayor Bruce Walker.
With sufficient lifeguard staff tentative to take charge, the Grangeville city pool will open Saturday, June 14, with the traditional free swim to kick off the season. Responding to public comments, the city has changed operation hours to return Sundays into the mix. On Saturday and Sunday, the pool will be open from 1 to 5 p.m. As well, the June open night swimming has been returned to the schedule.
Tentative on available staffing at the end of the season, the pool will close either Aug. 15 or 22.
Last year, the pool added and changed facility offerings — based on user statistics from 2012 — that extended some offerings but eliminated others, specifically Sunday swims and extra June swim sessions due to low usage numbers.
At its May 5 meeting, the council heard comments and read letters concerning pool operations — specifically on extending pool hours to accommodate working parents — that were accommodated in a revised season schedule announced last week. Along with extended hours, programming was moved up an hour on Fridays – as the swim team will not be conducting afternoon practice that day – that will reduce the time the pool sits empty.
Mayor Walker said that in response to city efforts to meet public requests for facility program offerings, he hopes to see in kind a positive public response for pool usage this summer. City Clerk Tonya Kennedy said public comment sheets will be available to patrons, information from which will help city staff in coordinating future facility operations and offerings.
"This is something that we're going to continue to monitor," said Kennedy, regarding patron counts, "so that if something is low, we'll be aware of that."
Just three weeks ago, the city was concerned the pool may not open due to a low response for available lifeguard positions. Only seven had applied, of which four were American Red Cross certified lifeguards; the facility needs a minimum of eight to operate and ideally 12. However, at the May 19 council meeting, the city reported it had received five additional applications that, pending certification, should provide facility staffing to meet and likely exceed minimum requirements.
Information on swim rates, pool hours – including operations during Border Days — and swimming lesson sessions is available from the pool, 983-0935, or online at www.grangeville.us . The annual clip out ad is also available in this week's Free Press. Pool fees remain unchanged from last year.
Kennedy advises patrons pool operations will begin with the start of swim lessons on June 9; however, the facility is not open to the general public until the June 14 start date. In the interim, lifeguard classes will be using the facility from June 5 to 13.
"We hope to see the pool completely full all night and all weekend," Kennedy smiled.