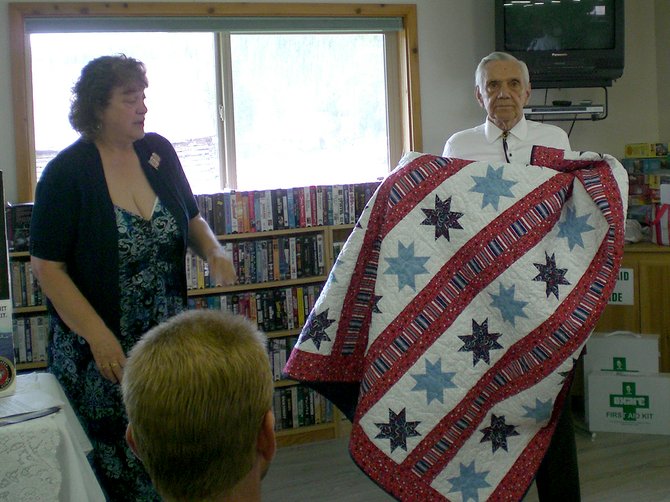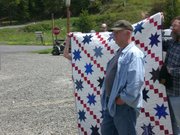 Elk City Sew-Help-Me quilters, in partnership with the National Quilts of Valor Foundation, pieced and quilted two red, white and blue Quilts of Valor to present to local veterans on Memorial Day. The group's goal is to present a quilt to every veteran or service person touched by combat while serving on foreign soil. They presented the following over the weekend and are working on the next two they will present on Veterans Day in November.
George Leonard Waldenmyer, aka "Waldy," visited Dixie the first time in 1958 while hunting and fell in love with the area. He moved to Dixie in 1992. He is a veteran of World War II serving as a staff sergeant in the 427th Bomb Squadron, 303rd Bomb Group. He served at Molesworth , England, from 1942 to 1945 and received many awards, such as the Commendation Medal.
Earl Johnson has the distinction of being born and raised, and living his whole life in the Red River Valley. He is married to his wife Jeanette and they reside on the Johnson family ranch. He and Jeanette have five sons. He began his service in the Army in October of 1965. In October of 1966 he reported to duty in Vietnam as a Corporal/Specialist 4th Class in Communications. He completed his tour and service in October 1967 and returned home. He was awarded the Commendation Medal for his service.