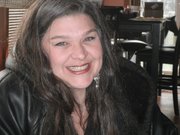 WHITE BIRD — Well, I guess the news isn't going to write itself. I gave it two weeks to try though.
PVBC sets activities
WHITE BIRD — Men's breakfast at Pleasant View Baptist will not meet during month as it falls on the same weekend as White Bird Days. Next breakfast will be Saturday, July 12.
The PVBC youth will be attending the Jason Schuster concert this coming Sunday night at the Crosspoint Alliance Church in the Lewiston Orchards, 7 p.m. The group will leave from the church at 3:30 p.m., stopping for dinner before the event. Youth are encouraged to bring $2 to help pay for the meal, the concert is free, but a goodwill offering will be taken. Contact Kathy Stefani, 839-2220 for more information.
This is the last week of school. The kids will be running in the streets, a little more than they have been. When you're driving slowly through town, please keep an eye out for them and all their dogs.
The river, she's a risen and swoopin' up everything in her path. I found myself laughing out loud yesterday, watching some tourists, casting their lines out amongst the floating logs, trying to catch a fish. Is common sense only common in Idaho?
White Bird days is coming up. As always, it'll be the third weekend in June. The parade theme this year is "Hi-Ho Silver – 25 years of Saddles, Buckles and Spurs". If you would like to participate in one of the best parades around, get ahold of Carrie Marek at 839-2500. The rodeo will be both Friday and Saturday and there will be a calf scramble for the kids both days. On Saturday there will be stick horse races with Smokey Bear. Books open June 2nd, call backs on the 3rd. ICA Office contact is 208-845-2051. Local entries: June 5th-until filled-limited entries. Local team roping, youth barrels, and steer riding call 983-7701. Mutton Bustin' will be Saturday only at 3:45. Call on 839-2500 on June 5th to sign up. Also the EhCapa Bareback Riders will be returning again for Saturday's parade and rodeo performance. There will be an Art Show and Sale, Games and Street Dances. All of this takes a lot of community effort, so if you would like to help out in any way, let someone know.
Tammy Stone wanted me to let all the Rebekahs know that she is planning a Rebekah drill team for the White Bird Days parade. If any of you would like to know more about it and are interested in joining, please give her a call. 315-3445, ASAP!
Plans are still going forward in establishing our White Bird Area Parks and Recreation district at the school. In the meantime, a great big thank you to Joaquin and Verna Lowe, and Brenda Heckman who have volunteered their time and equipment to keep the grounds mowed and weeded. Soon it will need watering, and volunteers would greatly be appreciated. The kids have been playing up there every day after school and all weekends long. I'm so glad that when our district is acquired, they will still have a place to play. It's going to be such a blessing to all of us. I still have the petition at Canyon House if you want to get your name on it.
Happy Birthday this week to: Justin Meacham, Bettie Cox, Del Wadsworth, Joe Anderson, Ron Mahurin, Zelda Gordon and my beautiful cousin Kristy Beckstead.