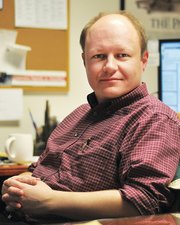 Rest areas are a hot and cold subject: Desperately important when you need them, but otherwise they are pretty low to nonexistent on our day-to-day agendas.
But it's something that's to come up for us in relation what our neighbors in the Beaver State are up to along their freeways and highways with their rest stops. And as we have a couple in Idaho County – south of Riggins and on the Idaho/Montana border — it's a moment to pause and watch.
On March 16, the Register-Guard in Eugene, Ore., featured the growing work, and reach, of the Oregon Travel Experience (OTE), a semi-independent state agency overseen by the Oregon Travel Information Council. This group is transforming rest areas into not only clean, comfortable and convenient travel hubs, but in also providing roadside services such as changing flat tires, retrieving left-behind pets or giving directions to the nearest restaurant.
Overall, Oregon has 40 rest areas, and of these OTE has management of 29 at a $6.55 million annual budget. OTE's director stated its focus is public safety and helping travelers have a good experience.
That's fine, just as long as that's all. But good intentions mixed with success can lead to overstepping boundaries.
Our concern is the empire building inherent in bureaucracies that lead these to leaps into areas best served by private enterprise. What if there's a state budget shortfall that threatens the rest area budget and OTE decides to fill the funding gap by franchising restaurants, gas stations and other services at their stops?
What does that mean for the communities along the way who receive a portion of their commerce from travelers coming off the exit ramps for gas, food and – oh, as long as we're here – some additional purchases?
Speaking for rural communities, we're interested in rest stop improvements to better service motorists. But we — as residents of North Central Idaho and as a state — need to ensure these are maintained as hubs, not just for potty and rest breaks, but as informational centers that direct economic activity to nearby communities.