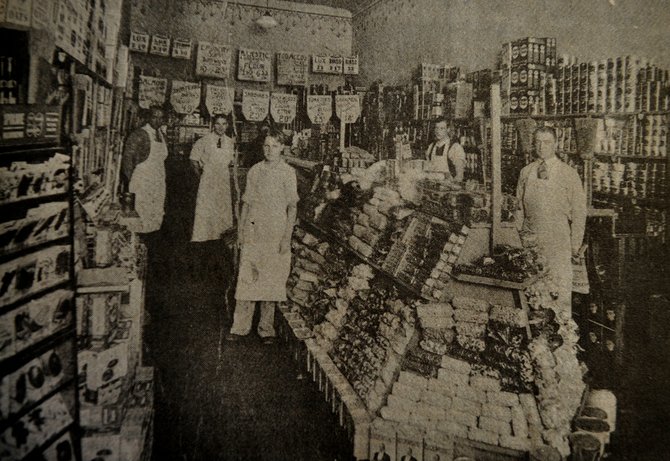 10 YEARS AGO
MAY 26, 2004
Twila Hornbeck, Jim Chmelik and Larry Dasenbrock were victors in the Republican races. The Democrats chose Randy Doman and Jim Rehder to seek commission seats.
Marv Forsmann of Grangeville retired from his Avista Utilities job after 37 years.
20 YEARS AGO
MAY 26, 1994
Catering to a clientele of working cowboys who demand a product that is both durable and makes a statement, a Mount Idaho resident is gaining a reputation for his handmade spurs and other western accessories.
Randy Stuck creates his product from scratch, using no manufactured parts, so that his product will endure the everyday abuse of his customers.
30 YEARS AGO
MAY 23, 1984
Despite having just a five-man contingent the Nez Perce Indians racked up 48 points to claim the team title in the Idaho state A-3 track championships at Boise last Saturday. Other area teams also sparkled with Deary and Highland sharing second place, Clearwater Valley sixth, Lapwai ninth, Grangeville tied for 13th.
40 YEARS AGO
MAY 29, 1974
Visitors at Grangeville are now greeted by signs which were constructed as a project of the Grangeville Jaycees. The lumber for the signs, which will be located at all three entrances to Grangeville when completed, was donated by Wickes Forest Industries, the poles were donated by Washington Water Power, the routing of the letters and the varnishing of the signs was done by the Corpsmen at the Cottonwood Job Corps Center and the layout, design and assembly was done by Jaycee members.
50 YEARS AGO
MAY 28, 1964
New haven of rest and beauty is the Skookumchuck Recreation area now developed by the Bureau of Land Management. It is between U.S. 95 and the Salmon River, five miles south of White Bird and 25 miles north of Riggins. The site takes its name from the Skookumchuck Creek, entering the Salmon near this point.
60 YEARS AGO
MAY 27, 1954
Patsy Duncan was hired to be the swim instructor at the Grangeville swimming pool.
Three hundred and fifty feet of wooden pipe above the city reservoir has been replaced with six-inch steel pipe. This replaces all the wooden pipe in the city system where there is pressure involved.
70 YEARS AGO
MAY 25, 1944
Everything is in readiness to open the Grangeville swimming pool June 10 except the matter of finding a lifeguard. The Grangeville Lions Club and Eagles Lodge will direct the management and have sponsorship of the project.
80 YEARS AGO
MAY 24, 1934
Jim Miller, one of the foresters in the CCC Company 616, found an old violin under the floor of an old dilapidated log cabin. The instrument bears the Italian inscription "Stradivarius Cermonenis – Fagiebat Anno 1721."
90 YEARS AGO
MAY 29, 1924
Farmers and stockmen will sponsor an automobile excursion to farms of Idaho County. Edwin Nelson, Denver, has worked out the plans.
100 YEARS AGO
MAY 28, 1914
Notice to Public – A city ordinance of Grangeville provides for a fine of from $10 to $25 where manure is not hauled out of the corporation at least every 30 days.
110 YEARS AGO
MAY 26, 1904
The contract was let by the city council Friday night for macadamizing Main Street to Wm. Von Berg. The estimated cost will be $12,000. Concrete crosswalks and concrete drain gutters are to be built.
Arrangements are completed for a big festival at the new church at Lowe, (Winona) Friday, June 3. There will be sweet music by the Norwegian band and all money taken in will go to the church.
120 YEARS AGO
MAY 25, 1894
Shearer and Greenfield, Bentz and Evans and Dr. Bibby are putting in a long stretch of bridge on the street grade in front of their Main Street property so that they can drive up to the front of their business premises on a dead level. (Bridge located about where Kandy Kitchen is now.) This is a great improvement to West Main Street.