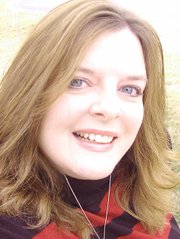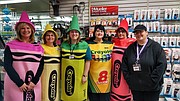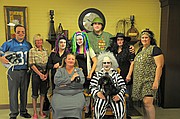 Forgive me last week for saying it is Luke Manifold who is an assistant coach at Mt. Idaho Gymnastics. That should have said Sam Manifold. Luke is my oldest daughter's age so it was stuck in my mind. Sorry, Sam!
•
All veterans are invited to stop by The Hangout, 603 Front Street in Cottonwood, on Veterans Day, Tuesday, Nov. 11, for a free cheeseburger meal. Thanks to Ron and Debbie Schnider for offering this for our military men and women!
•
Immunizations will be offered at all five of the St. Mary's Clinics from 5 to 6:30 p.m., on the second Monday of each month beginning Nov. 10. These are for children through age 18. Call the clinic of your choice to make an appointment; and bring your child's immunization records
St. Mary's Hospital wants to remind parents when children are not vaccinated, they are at increased risk for disease and can spread disease to others in their classroom and community; including babies who are too young to be fully vaccinated, and people with weakened immune systems due to cancer and other health conditions.
•
Mark your calendars: Pets pictures with Santa will be held Saturday, Nov. 8, at Green Acres Nursery in Grangeville. This is sponsored by The Gallery, One Hour Photo, Green Acres, Mr. and Mrs. Santa, Toni Baker and KORT Radio and will be from 11 a.m. to 2 p.m. For a donation of $9, 5 by 7 color photos will be available. This is a major fund-raiser for Animal Ark Lost and Found. Call Melinda at 983-5832. This is also an opportunity to donate dry and wet dog and cat food, litter or money donations.
•
Kamiah Chamber of Commerce will hold its general meeting tonight, Wednesday, Nov. 5, at the Welcome Center (Chamber Building) at 6:30 p.m. with a potluck dinner and 7 p.m. meeting to follow.
•
Who says there's no such thing as a free lunch?
The Pizza Factory in both Grangeville and Kamiah will offer a free lunch to all veterans on Veterans Day, Tuesday, Nov. 11.
So, area veterans, in Grangeville stop by 126 West Main Street, and in Kamiah go to 814 3rd Street.
•
No words can express our heartfelt condolences to the Blackmer family for the tragic loss of their son, brother and grandson, Austin. This community will remember Austin for not only his sports prowess but also for his strength of spirit, words of encouragement to others and genuine smile. I ask God and this town of caring people to comfort the Blackmers as they make this journey of grief; they will not travel it alone.