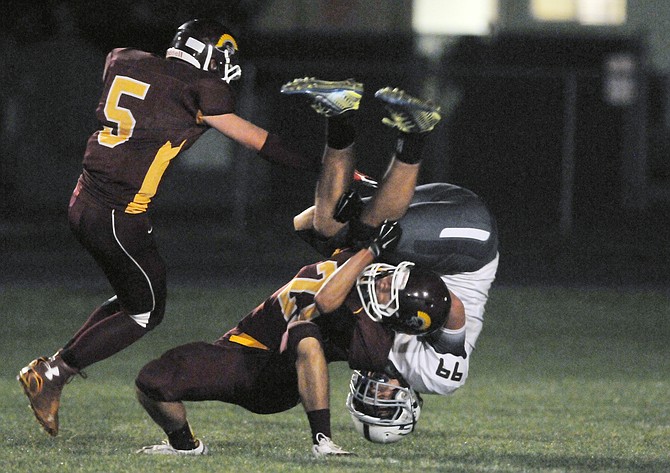 NAMPA — Before Max Cawley recovered a Nampa Christian player's fumble midway through the first quarter of Grangeville's 47-13 first round victory last Friday night, Oct. 31, the Bulldogs and the Trojans had traded possessions.
Before Jack Lawrence jarred that football out of the runner's hands, Nampa Christian was starting to establish a threatening end-around rushing attack.
"I was pleased with our effort down there," coach Jeff Lindsley said. "That play they got going, that's more on the coach, on me, than on the players. What we were doing to try to take away their passing game was a lot to ask the kids to learn with a limited amount of practice."
But after that — and after a 48-yard connection from quarterback Layton Harris to senior end Drew Lindsley — Grangeville's offense took control of the game.
"That was one of the many big plays Drew had at momentum-exposed moments," Lindsley said. "He blocked his butt off, and for him to come up with those catches was huge for us."
Late in the first quarter, running back Jake Kaschmitter carried the ball on three consecutive plays and barged into the end zone for a 6-0 lead. He averaged nearly eight yards per carry through the end of the half, after which he had 103 rushing yards and Grangeville held a 27-7 lead.
Utility man Michael Wilson lined up at linebacker defensively, at wide receiver offensively, and occasionally stepped in under center as the Bulldogs unveiled a wildcat formation they had run sparingly — if at all — during the regular season.
"Our offense has been intact personnel-wise all year, even as we've had to do a lot of shifting around on defense," Lindsley said. "To have Jeff Adams coordinating that, you couldn't ask for a better guy to do it. He knows what he's doing."
Wilson caught a touchdown pass from Harris with one second left in the second quarter and handed off to Lawrence for a 46-yard touchdown run barely a minute into the third quarter as Grangeville secured the right to travel to North Fremont, which defeated Bear Lake 50-15 last Saturday, Nov. 1.
Coming — Grangeville (6-3) will play North Fremont (6-3) at Ashton on Saturday, Nov. 8. Kickoff is set for 2 p.m. MT. Sunny weather, 50 degrees, is forecast.
"They're a younger team, but they're big and athletic," Lindsley said. "They want to run about 90 percent of the time."