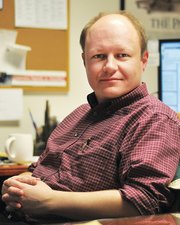 A parade, a recognition ceremony, flags along Main Street: All are great and honorable ways leading up to Veterans Day to recognize the men and women who served in U.S. Armed Forces.
And then there's last week; the harsh reality of what that service may entail.
Two Idaho Army National Guard pilots died in Boise Nov. 6 when their Apache helicopter crashed near Gowen Field: Chief Warrant Officer 4 Stien P. Gearhart, 50, of Meridian, and Chief Warrant Officer 4 Jon L. Hartway, 43, of Kuna.
Military service provides a visceral, hands-on contribution by citizens to the maintenance and defense of our nation and its freedoms. It's an opportunity to serve that cause in a position where you readily see your contribution at work. But there's danger there, and even with recognition events, such as Veterans Day, we as citizens, especially civilians, may not appreciate how near — how tangible – those hazards are. And, that they are not solely limited to some desert battlefield.
Among the statements made concerning last Thursday's incident, Senator Mike Crapo best summarized the sentiment common to them all: "This tragic event serves as a poignant reminder of the dedicated service and ongoing sacrifices our military men and women make to safeguard our freedoms."