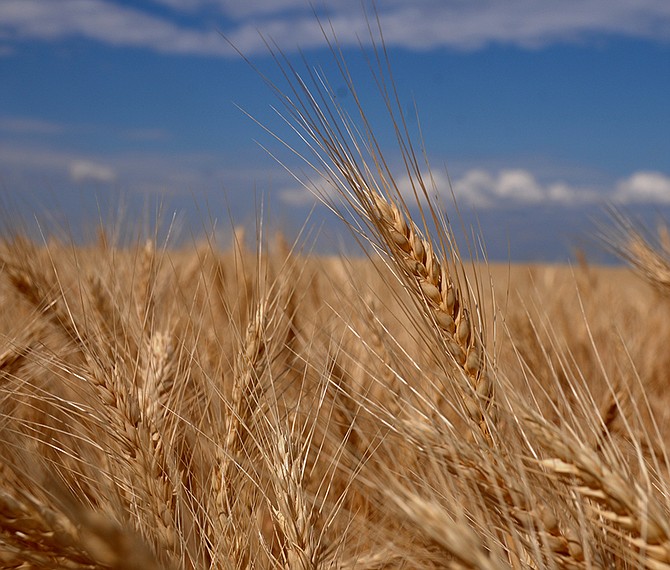 Photo by Lorie Palmer
A field of wheat pictured in August near Fairview Cemetery on Lukes Gulch Road.
Idaho County's agriculture industry is showing profit, and the small family farms continue to become fewer, according to statistics released recently by the U.S. Department of Agriculture.
Farm numbers are down in Idaho County: 731 were reported, according to the 2012 Census of Agriculture, down by 3.8 percent (29) from the last agency count in 2007. However, the number of acres in farms has increased by 8.2 percent, up by 48,295, and the average farm size from 2007 to 2012 has risen 12.3 percent – up 96 acres.
"You see what's happening with farms like what is going on with Main Street," said David Bodine.
David and his wife, Bobbi, managed a farming operation in Grangeville for 32 years, growing crops including winter and spring wheat, winter and spring canola, garbanzos, lentils, Austrian winter peas and a little flax. They retired from the business at the end of harvest last year.
"Farms just keep getting bigger and bigger," he said, reflecting the business consolidations consumers have witnessed on Main Street where communities go from having multiple stores of the same type, hardware and lumber for example, to just one of each. "Farming is following the same thing as on Main Street," he said, as smaller operations are combined into larger ones.
In six size classes of farms, two showed decreases from 2007 to 2012 according to the Census: 10 to 49 acres, down by 37 farms (21.2 percent); 50-179 acres, down 13 (7.3 percent). The largest increase, up 40 percent, was in farms sized between one to nine acres: up by 12 for a total 42. Farms in ranges 180-499, 500-999 and 1,000 and up saw percent increases, respectively, of 3.5, 1.3 and 1.9.
Within Idaho County from 2007 to 2012, the estimated market value of land and buildings, per farm, increased 11.3 percent (up $124,127); and for machinery and equipment, the average market value increased 27 percent (up $21,260).
"It's hard for young people to get started in farming today," Bodine said. Partly is that, within this region, there's not a lot of farm operation turnover. "Old guys like me rent out to a farmer, and he gets bigger. Someone doesn't come in now and start a farm; they usually rent to a neighbor, consequently the farms just get bigger and bigger."
This was the case in the early days of the Bodine's operation, he explained. After 20 years in operation they took over three smaller farms and one larger farm – which had already been combined from seven smaller farms – and later they joined with neighbor Cliff Tacke in a farm corporation. "All total, 14 to 16 little farms," he said, were combined.
Largely, farm operation start-ups today are hindered due to the costs involved; Bodine noted the saying goes: You either married or buried to get started in farming.
"Unless you have a lot in your bank account, there's no way to do it," he said.
Smaller operators, say of 500 acres, for example, aren't able to afford the machinery to make farming that size of an operation profitable, if they can find something suitably sized at all. Bodine explained, for example, the smallest header is 25 feet; these are currently at a standard 36 feet and are going up to 44. Tractors for such an operation cost around $112,000, but the supply is slim as "manufacturers aren't manufacturing for small farms anymore," he said, and many ag operators hold onto their smaller equipment as "chore tractors."
Looking at farms by value of sales, 81 were reported in 2012 making between $5,000 to $9,999, according to the Census, up 53 percent from 2007, followed by 169 reporting $100,000 and up (an increase of 42; 33 percent). Minor decreases were seen in farms making $25,000-$49,999 (down 7 percent) and $50,000-$99,999 (3.4 percent). Those with sales less than $2,500 dropped 24 percent (by 78) from 2007 to 2012, and a 20 percent decrease was seen with those in the $10,000-$24,999 range.
In Idaho County, the market value of agricultural products sold increased by 57 percent – up $29.46 million from 2007 for a total $80.8 million reported in 2012. During that same time, the average value per farm increased 64 percent — $42,982 – for a total $110,564 in 2012. From 2007 to 2012, crops – including nursery and greenhouse – increased 70 percent (up $25.8 million); and livestock, poultry and their products increased by $3.65 million (up 25 percent).
Livestock counts from 2007 to 2012 showed large increases in two categories. Hogs and pigs inventory in 2012 was 1,354, up 510 percent; and sheep and lambs were up 67 percent (1,501) for a total 3,753 in 2012. Cattle and calves inventory increased by 5,710 in 2012 (up 21 percent from 2007), however, the number sold decreased 9.3 percent – 1,777 fewer that same year. In 2012, beef cow numbers were up by 3,624, a 24 percent increase for a total 18,558; and milk cow inventory dropped by 150 animals, an 86 percent decrease – from 175 to 25.
Idaho County grain crops reported total bushel increases in winter and spring wheat, and oats, and a decrease in barley. All wheat for grain saw 6,422 fewer acres harvested in 2012 from 2007, a 7.3 percent decrease. However, during that same time, total bushels increased by 771,293, up 15 percent, for a total 5.92 million. Winter wheat for grain was up 439,446 bushels (11 percent increase; total 4.61 million bushels) and spring wheat increased 34 percent, up 331,847, for a total 1.3 million bushels in 2012. Oats harvested in 2012 were up by 16 percent (22,923 bushels) from 2007.
Only barley harvested for grain showed a decrease during this period: down 7.5 percent (65,658 bushels) for a total 810,675 in 2012.
For the duration of his farming, Bodine said, "Most of the time we could see the yield increase inching up," which he attributed to ongoing private and university research that resulted in "better and better seed all the time so we were producing a few more bushels each harvest."
In Idaho County, total farm production expenses are up 36 percent — $15,215,000 — from 2007 for a total $57,133,000 in 2012. Per farm, production expenses have increased by an average of 42 percent ($23,002) during this same time, from $55,155 to 78,157.
"Since 2007, we have seen some pretty good prices in farming wheat and canola," Bodine said, and the bottom line has really improved these last years," resulting in a net increase improvement that has allowed more operators to afford to buy equipment.
"It's a two-edged sword," Bodine added, on good ag commodity prices such as in grain and livestock.
"Now, cattle are out of sight, price-wise," he said, due to shortages in the U.S. and internationally caused in the last five years from such disasters as drought and floods. Cattle producers are currently doing pretty well on sales, "but for the cowboy buying corn or wheat to feed, the high prices really hurt." Bushel prices are good now, but as the Census numbers showed the production expenses have increased 36 to 42 percent.
"It will be interesting to see what happens in the next few years," he continued, to budgets and bottom lines when wheat prices drop.
Regarding government payments, fewer farms received these, according to the Census: from 339 in 2007 to 328 in 2012, dropping 14.7 percent ($976,000) for total payments of $5,658,000.
What is the net cash farm income change? In 2012, Idaho County's 731 farms saw a total $32,400,000, a 62.3 percent increase from 2007. The average per farm for that same period increased by 69 percent (up $18,129) for $44,322.
According to USDA, it periodically collects agricultural data for the Census of Agriculture at the national, state and county level, the intent of which is to provide help to farmers, ranchers, local officials, agribusinesses and the general public in decision-making.
But just what is the Census' value to producers? According to Bodine, it's more of interest for where the industry has been, and not much of a tool for day-to-day operations.
"It's always history, showing the trends of what's been happening," he said, adding, however, that, "We've already 'been there, done that.' It isn't something that we used a lot."