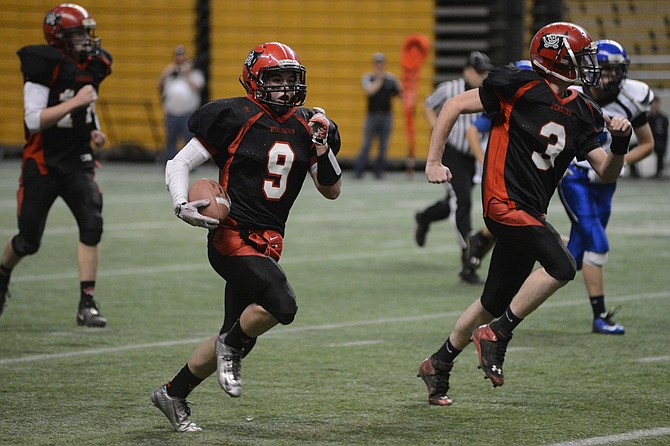 Photo by Andrew Ottoson
Prairie junior Terran Peery returned an interception 81 yards to score a fateful touchdown during the Pirates' 2014 football championship game.
Photo Gallery
Prairie wins 2014 football title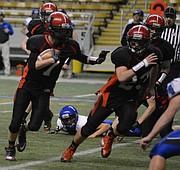 MOSCOW — The final score of the 1AD1 football championship game -- Pirates 72, Vikings 18 -- might suggest visiting Valley never had a chance against a north central Idaho powerhouse playing on its own turf. A large pro-Prairie turnout reinforced whatever advantages Prairie might have accrued from having the shorter drive to the Kibbie Dome, but during the first five minutes Valley stopped the Pirates and moved the ball deep into PHS territory. When Prairie broke free late in the first quarter, the Valley ceded 22 points during about two minutes of game clock.
Hunter McWilliams broke the seal with 69-yard reception from Jake Bruner with 3:03 left in the first frame. Barely 20 seconds later, Rhett Schlader scooped up a fumble and scored from 22 yards out and PHS added a Bruner-to-Calvin Hinkelman conversion for a 14-0 lead. An 81-yard interception return touchdown by Terran Peery put Valley in what appeared to be an insurmountable hole.
But the Vikings were not dead yet. Striking back with a deep pass followed by a short run, Valley closed within two scores with about a minute left in the first quarter.
That's when Bruner took over, converting a fourth down run and later punching in his first rushing touchdown, then punching in the conversion for a 30-6 PHS lead. After reclaiming the ball via interception, Bruner added another rushing touchdown 6:46 before halftime. The PHS defense delivered another turnover by way of a crushing fumble and a middle screen from Bruner to Hinkelman set up Bruner's third rushing touchdown of the half with 2:34 to go in the second quarter. Bruner scored again as time ran out -- his fourth touchdown of the first half -- making Prairie's lead 50-6.
Prairie added touchdowns on: a Bruner-to-Schlader strike and a couple of breakthroughs by McWilliams.
Prairie finished the football season 12-0. Boys basketball season, during which the Pirates will try to defend their 2013-2014 title, is scheduled to open Dec. 9 at Moscow.