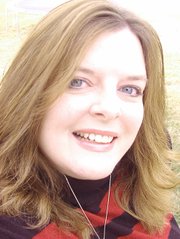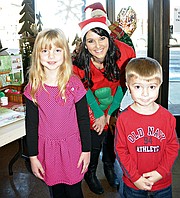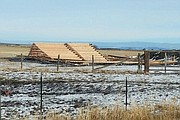 When Americans hit the road this year for Thanksgiving family gatherings, 31 percent of us say we'll be traveling more than 500 miles and another 31 percent will travel between 200 and 500 miles. This year 92 percent of us are driving and just 6.5 percent say they'll fly. But no matter how far we go or how much we think we save on gas… that doesn't mean we're looking for ways to spend it.
Of more than 81,000 Americans surveyed by GasBuddy this month, 71 percent said they expect to spend less on Thanksgiving this year. Among those traveling more than 16 percent say that savings from lower gas prices is leading them to alter their plans. For some that may mean stretching the Thanksgiving holiday and/or avoiding traffic.
Free Press cookbook corrections
Here's a little box you can clip and put with your Free Press Holiday Favorites Cookbook '14. I was bound to make a few mistakes, right?
First — I profusely apologize to Rita Wagenmann and Rita Mundt. When I was out of the office a couple of weeks ago there were three recipes on my desk. I had it in my head they were from Rita M. when in reality they were from Rita W. I am sorry for the error and confusion. In the holiday recipe booklet, note the recipes that say they are from Rita M. are actually from Rita W. Again, I am sorry. The silver lining on this is I saw Rita M. at Irwin Drug on Saturday and we laughed it out. We laughed that as her family read those recipes they might be saying, "What?! She never made this for us! Does she have another secret family somewhere?!" Thanks to both ladies for being so forgiving. (And thanks to Rita M. for the very funny personal response: Our office had a good laugh Monday!)
Additional corrections:
•On page 5 of the booklet under Shari Chaffee's "Ma Ma Chaffee's Raspberry Rhubarb Pie," draw a line under the "1/2 cup flour (for thickening)." The ingredients below this are for the crust.
•On page 4 under "Rita Mundt's Recipes," (which we now know are Rita Wagenmanns): For the Chex party mix it should be 1-1/2 teaspoons seasoning salt (I just had salt); and the pumpkin waffles should have 2-1/2 cups flour (not the 1-/12 I had listed).
Thanks to all who participated. Even with mistakes it was a fun project! Happy cooking! ~ Lorie
•
Don't forget: The Hangout in Cottonwood will offer a free dinner on Thanksgiving Day, Thursday, Nov. 27, at the restaurant at 603 Front Street, 11 a.m. to 3 p.m. Anyone who does not have somewhere to go or family in the area or who just wants to "hang out" is invited. Turkey, ham, dressing, green beans, mashed potatoes and gravy, cranberry sauce, rolls, pumpkin pie and drinks will be served.
•
Are you an arachibutyrophobic? If so, let's hope you don't have to eat peanut butter for Thanksgiving … because this is a person who has the fear of getting peanut butter stuck to the roof of his mouth!
•
Give yourself a gift for Christmas. Join Groaners Fitness Hot for the Holidays Weight Loss Challenge. Weigh-in and register now as the challenge begins Dec. 1. Groaners Fitness hours for weigh-ins are from 9 a.m. to noon and 1-5 p.m. Rules for challenges are available at Groaners.

•
Did you know … According to CBS Sunday Morning, the state of Hawaii consumes the most Spam. Spam comes in 14 varieties and in Hawaii even McDonald's serves Spam. The meat in a can product is made of pork shoulder and salt. It was invented in 1937 and sent to soldiers in the South Pacific during the war because it didn't spoil. It stayed in the Pacific as a staple. Monty Python helped make Spam especially popular with its Spam spoofs (if you know of Monty Python, you're laughing just thinking about this). Spam makers were not happy when Webster added the definition of unwanted e-mail as "spam;" however, the company says they have tried to keep a good sense of humor about Spam jokes.
•
Thanks to US Bank in Grangeville for being extra careful. I brought in a check (drive-through) to cash that was made out to Valor. I wondered what took so long … when I got home I found out they had called my husband to make sure it was OK for them to cash it. Different last names, I get it (insert smiley face).
•
Small, nonfarm businesses in four Oregon counties and neighboring counties in Idaho and Washington are now eligible to apply for low interest federal disaster loans from the U. S. Small Business Administration (SBA). These loans offset economic losses because of reduced revenues caused by the drought in the following primary county that began on September 16, 2014, announced Tanya N. Garfield, Director of SBA's Disaster Field Operations Center - West.
Idaho counties include Adams, Idaho and Nez Perce.
Applicants may apply online using the Electronic Loan Application (ELA) via SBA's secure Web site at https://disasterloan.sba.gov/ela. Application forms are also available from SBA's Customer Service Center by calling (800) 659-2955 or e-mailing disastercustomerservice@sba.gov.