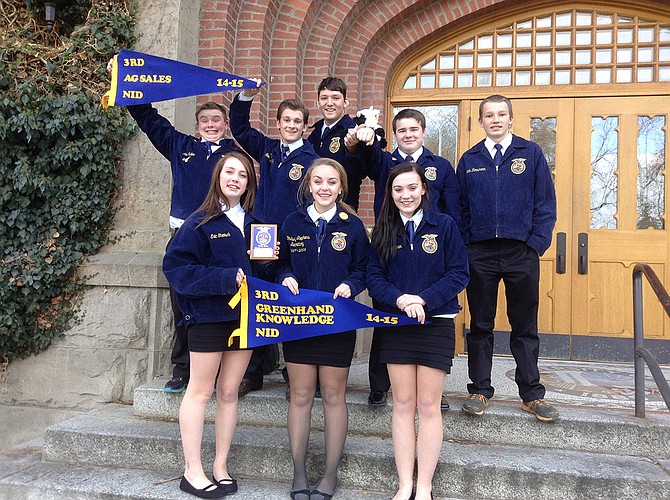 MOSCOW — On Friday, Nov. 14, the Grangeville FFA Chapter traveled to Moscow to compete in several District Career Development Events (CDEs,) which were organized by students in the University of Idaho College of Ag and Life Sciences' Department of Agricultural and Extension Education.
Four freshmen FFA members competed in the Greenhand Knowledge Exam, which tests students' knowledge of the FFA and its history. Hannah Forsyth placed 3rd, Gabe Forsmann placed 6th, and members Mataya Smith and Tessa Godfrey had a strong showing as well, placing in the top half of all district participants.
In addition to her participation in the Greenhand Knowledge Exam, Godfrey also competed in the Creed Speaking event. This CDE requires members to memorize the five-paragraph-long FFA Creed, and recite it in front of a panel of judges, along with answering questions about the Creed. Godfrey placed 9th in the district.
The Grangeville FFA Chapter also brought an Agricultural Sales team to the competition, which brought home 3rd place overall. This CDE requires a team of four members, who each compete in a different area relating to ag sales. All four members placed well in their individual areas: Camron Killmar earned 2nd for his sales presentation, Travis Goehring received 3rd for his sales presentation, Jon Asker placed 4th in the telephone skills portion of the event, and Patrick Schumacher placed 5th in the customer prospecting area.