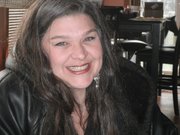 WHITE BIRD — It's October already! That means my favorite holiday is almost here. We can look forward to the Halloween party at the IOOF Hall for the kids and the costume parties at the bars for us bigger kids. Time to start thinking about your costumes and it's time to get ahold of Darla Brumley and offer to help her out, or throw a few dollars her way to help make the kids' Halloween party a success. For years and years now, the Brumley family has been the reason our kids have a party. Support them and let them know how much you appreciate them, 839-2205. Thank you, Brumleys!
The chili cookoff was a great success. Thank you to everyone who participated and all of you who showed up to support this fund-raiser. The big winners were first place, Sheryl Clark; second place, Bryan and Barbara Lowe; third place, Rick Alley. A total of $785 was raised for the White Bird Emergency Medical Relief Fund.
The Salmon River Art Guild is looking forward to seeing you at our 50th fall regional show. Thank you everyone and thank you for helping us celebrate our 50th anniversary. Viewers will be able to see fine art, sculpture, photography and participate in a silent auction. Up to $1,175 will be awarded. The judge for the event is Marla Kreigbaum of New Meadows.
On Friday, Oct. 3, from 10 a.m. to 3 p.m. (MDT), entries will be accepted at the Riggins Community Center, 121 Lodge St., (behind the Chevron Station). At 6 p.m. (MDT) a banquet for the artists, guild members and their families will take place on the lower level of the Community Center. For information about entering the show and RSVP, call 839-2493 or 839-2414 or e-mail srag.idaho@gmail.com.
The art show is Saturday, Oct. 4, from 8 a.m. to 5 p.m. (MDT) and Sunday, Oct. 5, from 8 a.m. to 3 p.m. (MDT). The silent auction closes at 2 p.m. (MDT) on Sunday and items must be picked up by 3 p.m. (MDT). This event is open to the public at no charge. Hope to see everyone there supporting your very talented local artists.
The Pleasant View Baptist Church is having movie night tonight, Wednesday, Oct. 1, at 6:30 p.m. The movie is called "God's not Dead." Everyone is welcome to come and watch and spend the evening with your neighbors. They will also have a men's breakfast on Oct. 11. For information you can always call Mr. and Mrs. Stephani at 839-2220.
November elections are right around the corner. Be thinking about turning the White Bird School into a parks and recreation district. You will be able to vote on it on Nov. 3. This is such a great opportunity for our entire surrounding community. If you have any questions, call me!
Happy birthday this week to: Bobbi Eller, Jack Pakkala, Tom Lammie, Dick Henderson, Larson Anderson, Bob Black, Jordan Lyon, Emrie Brumley, Kattera Johnson, Lyla Lucarelli, Aaron Dobbs and our late friend Jimmy Erskine.