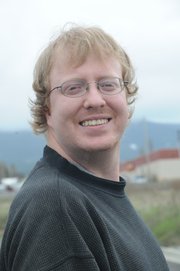 It can't just be luck. Two of the three who missed just two games this week are past winners — but with another logjam at the top of last week's pick 'em results, it helps to be a little lucky.
This week, the draw favored Lou Nichols (first place) and Rick Alley (second place) and shut out Lori Courtright. Nichols won out in a tie last week, and Courtright won outright a couple times earlier in the year.
---
Last week, Highland, Aberdeen, Lapwai, Grangeville and Kamiah won their high school games.
The collegiate winners were Texas State, Nevada, Stanford and Buffalo.
Green Bay, Detroit and Baltimore won the NFL games.
Around the office, Nona got 10 right, I got five right and the one Free Presser who tried flipping coins had the least luck of all.
---
In this week's high school games, give me Grangeville over Orofino, Lewiston over Moscow, Kamiah over Troy, Lake City over Sandpoint and Wallace over Clark Fork.
In the college games, put me down for Texas A&M over Mississippi State, Notre Dame over Stanford, Fresno State over San Diego State and Oklahoma over TCU.
For the NFL games, I'll go with the Browns over the Titans, the Bengals over the Patriots and the Texans over the Cowboys.
---
Judging the White Bird Medical and Relief Fund Chili Cookoff winners was a lot of fun. I may not be much of a chili judge, but I learned what well-cooked rattlesnake looks and tastes like:
Not bad!
---
We were given two Calls-M-All game calls to give away this autumn, so we put all the Hunter's Almanac hunter success photo contributors names into a drawing and pulled out Brian Gortsema and Karen Syron. There's a call for each of you waiting at the front desk here at the Free Press office across from Zip Trip.
The Calls-M-All creator, Bruce Hancock, will be giving a seminar on these calls Sunday, Oct. 5, starting at 1 p.m. at Rae Bros. Sporting Goods.
---
We're still accepting brag board photos through the end of today, Oct. 1, for consideration to be printed in the Hunter's Almanac. If you have one from the past year you'd like to see included, bring it by the office or give us a call (983-1200) or send me an email (aottoson@idahocountyfreepress.com).
As always, we'll keep printing hunter success shots year-round, so it's never too late to send us a shot.