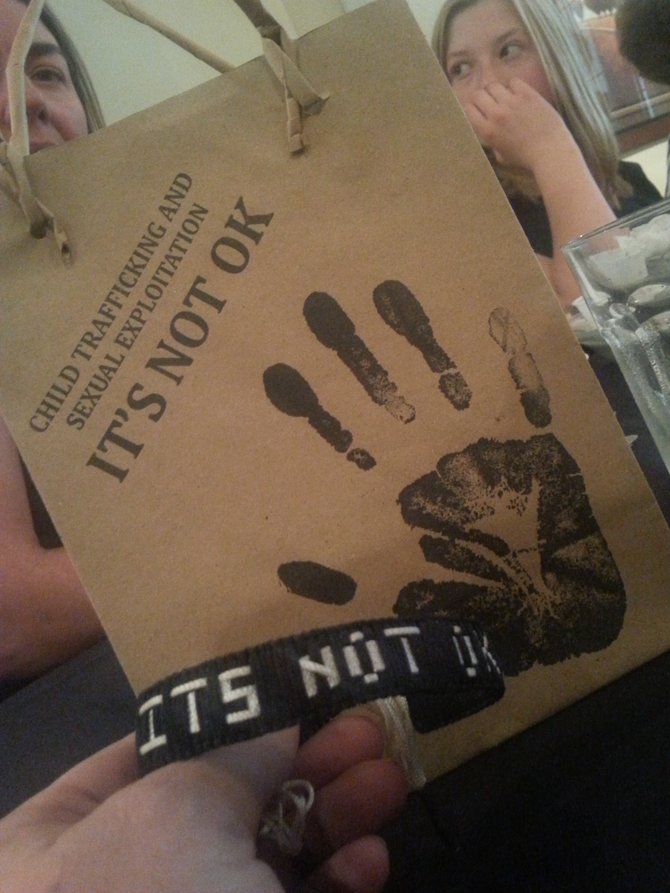 Photo by Lorie Palmer
Stout gave out handprints and handmade bracelets constructed by young Cambodian women who were former sex slaves.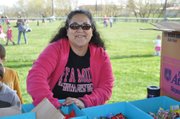 GRANGEVILLE — Who knew that a lonely, abusive childhood would ever give credence to a young Christian as she visited half a world away?
More than 20 women were in attendance at the monthly Encouragers meeting Sept. 25 when Yolanda Stout of Grangeville briefly told about her recent mission trip to Cambodia.
"I was not loved as a child. It is only in the past year I have been able to say 'mother,' because I have forgiven her for the terrible things she allowed to happen to me," Stout said.
Only a Christian for the past four and one-half years, Stout is now a member of the Grangeville Gospel Tabernacle. She said she began feeling God's pulling to travel and do mission work several years ago.
"I had a vision of a jungle and I said, 'I'm not going anywhere, God! I hate spiders!'" Stout recalled. Through time her resolve – and her heart –softened.
Stout spent a month in Cambodia with the She Rescue Home, an Australia-based organization that helps reclaim young girls who have been sold into the sex trade and return them to their families.
Stout used her "In His Grace Photography" skills to capture reunions and for web site promotional materials. She also had the opportunity to work hands-on with girls as young as 6 and through 16 who were re-entering homes or who lived in the rescue home.
"I was them," she said. "I know that hurt of being violated, of being without a mother's love. God used me to love them. And I did."
She said she walked through flood waters, encountered horrible smells, sewage and trash to love on girls who have never known pure love.
"It was an honor to be with them and show them God," she said.
Although Stout had originally told God, "Send someone more worthy," he chose her, she said.
"God thought I was worthy," she cried.
Stout said the trip has taught her many things – mainly to "not sweat the small stuff."
"I won't let Satan steal my joy and I cannot wait to see what else God has in store for me," she said.
Stout and her husband, Danny, have two grown daughters and a granddaughter.