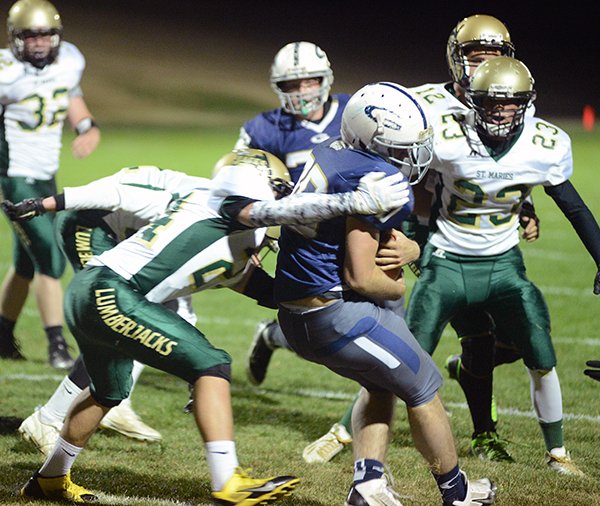 Photo by Andrew Ottoson
Grangeville's Jake Kaschmitter broke this tackle with a spin move near the goal line during Grangeville's 56-8 homecoming drubbing of St. Maries last Friday night, Oct. 10. Kaschmitter helped power a rushing attack that amassed nearly 300 rushing yards against a Lumberjacks squad that entered the game with five wins to its credit.
GRANGEVILLE — After a week of shuffling players into new roles in the wake of a narrow loss in their Central Idaho League opener earlier this month, the Bulldogs played near-perfect defense in a lopsided win over St. Maries last
Friday night, Oct. 10.
Grangeville forced and recovered a Lumberjacks fumble on St. Maries' first possession and the GHS offense converted the turnover into the first score of a 56-8 rout.
"I was pleased with the way we rebounded from the prior Friday night's game," coach Jeff Lindsley said. "We were wanting to correct all the things we did wrong at Orofino. Had we played there a fraction of how well we did against St. Maries, maybe the outcome would have been different — but that's speculation."
The Bulldogs handed off to Jake Kaschmitter three plays in a row to cap off a 13-play series with a short touchdown run with 3:40 left in the first quarter.
The first of T.J. Wiltse's eight extra points gave GHS a 7-0 lead.
A personal foul penalty against the Bulldogs on the ensuing kickoff released St. Maries from the prison of poor field position, but an exchange of possessions pinned St. Maries inside its own 10.
When Grangeville forced the Lumberjacks to punt from their own end zone, Michael Wilson returned it 50 yards for a touchdown and a 14-0 advantage.
After St. Maries returned the kickoff to near midfield, the GHS defense made another big play just before the first quarter expired. Eli Eackles effectively ended the possession by snuffing out a reverse for a nine-yard loss.
During the second quarter, Grangeville added a 32-yard rushing touchdown by Cole Lindsley, a nine-yard passing touchdown from Layton Harris to Wyatt Dewey, and a 15-yard pass from Harris to Drew Lindsley.
The reshuffled Bulldogs defense yielded a touchdown drive starting the third quarter, but the St. Maries defense barely limited the GHS passing offense.
Harris — who moved effectively in the pocket and had a few nice runs — found his rhythm after a few early incompletions. In his rhythm during the second half, he delivered touchdown passes of 53 and 66 yards to Austin Parks, Wilson and Wiltse, respectively.
"A lot of times you take your chances on homecoming night, but the kids had a very focused week of practice and I was happy with their whole attitude," Lindsley said.
Coming — Grangeville (5-2, 1-1 Central Idaho League) can claim the CIL title if St. Maries defeats Orofino in St. Maries on Friday night, Oct. 17.
The Bulldogs will play a non-league game at Gooding on Saturday, Oct. 18. Kickoff is set for 4 p.m. MT. Grangeville will then have a bye week to prepare for the first round of the 2A state playoffs, which begin on Halloween night.
"The back we'll see at Gooding is the best we'll see all year," Lindsley said. "The kids remember him from last year. They're one of — if not the best team we'll see all year."
Gooding is undefeated in Class 3A and averages 57.8 points per game.