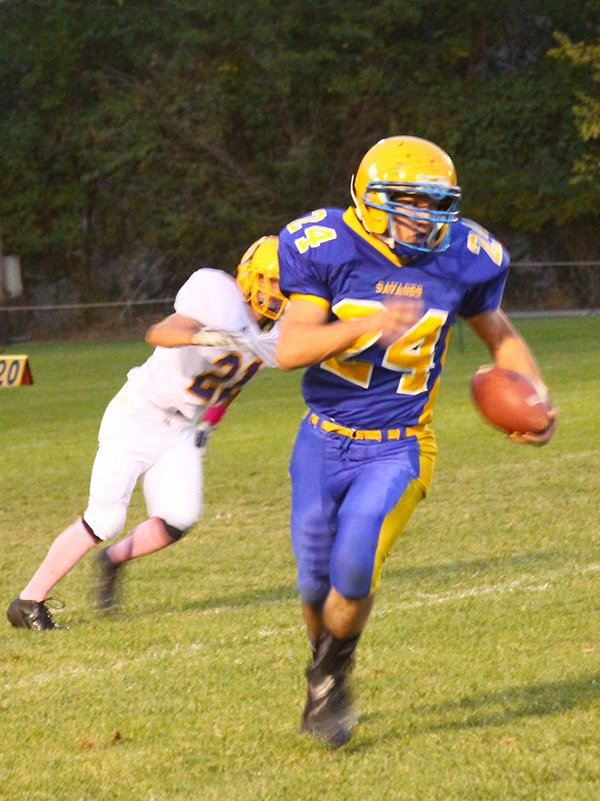 COTTONWOOD — Having learned from their stumbles in close games against Troy late last year, the Pirates overwhelmed the Trojans last Friday night, Oct. 10, by a 64-8 margin.
After breaking through for two first quarter touchdowns, PHS put up three more scores before allowing Troy's only points of the night.
Lucas Arnzen scored on a run from a yard out, and a passing touchdown from Jake Bruner to Mason Dalgliesh later in the first quarter compromised Troy's defense.
Bruner broke a 29-yard run early in the second quarter, and Hunter McWilliams ripped runs of 85 yards and 29 yards before Troy's offense scored.
While Troy's offense proved explosive against lesser teams earlier in the season, Prairie allowed no threat to its 38-8 halftime lead.
McWilliams added touchdown runs of 40 yards and nine yards during the second half. Rhett Schlader tacked on a couple of long scoring passes from Bruner as the Pirates topped 60 points for the sixth straight game.
Up next, Prairie (6-0, 4-0 Whitepine League) will take the WPL's last unbeaten record to Potlatch on Friday night, Oct. 17, before closing out the regular season Oct. 24 against Kamiah. Kickoff is 7 p.m.
Salmon River 28, Cascade 25
RIGGINS — Salmon River broke through for its first win of the season on the night the Savages paid respect to their seniors. They celebrated homecoming, Oct. 10, with a narrow victory, 28-25, over Long Pin Conference foe Cascade — the closest game between the teams in recent memory.
SRHS will graduate four football players next spring: Brant Baugh, Jimmy Shepherd, and two who stood out last Friday night.
"Peyton Herzig had his career day for rushing yards," coach Charlie Shepherd said. "I haven't looked at the stats, but he probably had 100 yards rushing."
The Savages also handed off to senior Bryson King three times — he hadn't previously played offense — for about 50 yards.
The sophomore-to-junior connection of quarterback Tucker Boyd to wide receiver Rylie Travis made key plays on a couple of fourth downs.
"Early in the game, Tucker hit Rylie for about a 45-yard pass touchdown on fourth down," Shepherd said. "The game came down to the last drive, fourth-and-ballgame. Cascade expected us to run, and if they had stopped us, they could have kneeled down to run out the clock."
"We went with play-action," Shepherd continued. "Tucker rolled out and threw for about a 10-yard gain that set up first-and-goal from the four."
Salmon River punched in the winning score, netting its first victory of the year with games against Tri-Valley and Garden Valley remaining.
Up next, Salmon River (1-5) will visit Garden Valley at 4 p.m. MT on Friday, Oct. 17.
"They'll be another challenge — they always play us tough on their field," Shepherd said. "They're big. We're gonna have to be able to pass the ball and stop the run."
Potlatch 52, CV 10
KOOSKIA — Without leading rusher and linebacker Kaden Carr, who has been sidelined by injury for several weeks, Clearwater Valley's offense prodded Potlatch's defense and could not contain the Loggers' offense last Friday night, Oct. 10.
Up next, CV (2-4, 0-4 Whitepine League) will host Lapwai for a 7 p.m. kickoff on Friday night, Oct. 17.
Lapwai (2-4, 0-4 league) and the Rams enter the week tied in the WPL standings.