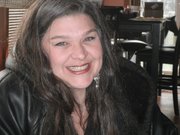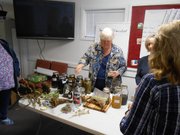 WHITE BIRD — Our community has been saddened by the loss of Mr. Joe Wilson. He's been a great friend and neighbor to everyone who knew him. Our hearts and prayers go out to his family and each other.


We had a firewood cutting, chopping and stacking party at the gun club two weekends ago. This would've been in the news last week, but somebody didn't hit send on her e-mail. The White Bird Emergency and Medical Relief group, along with many volunteers put in four solid hours of hard work. At one point we counted 27 people. All these folks spent their Saturday morning doing what they could to make sure none of our neighbors go cold this winter. We've got a great group of kids in this town who showed up with their working gloves on and worked their tails off right alongside the adults. We turned a log deck into eight-10 cords of wood, all chopped and neatly stacked. Yeah, we're awesome like that! The wood is intended for local people who, for some reason or another are unable to get enough firewood for themselves. If this might be you, call a medical relief member. However, laziness is not a reason for lack of firewood. A great big thank you to all you wonderful White Bird people.
The Halloween party for the kids is going to be early this year. We are going to have it the Saturday before Halloween, the 25th. It will be from 6:00-8:00 pm. You have plenty of time to get those costumes lined out and to create a prize-winning jack-o-lantern for the pumpkin contest. Don't forget we also have a great cake walk, but it's only wonderful if everyone brings a goodie of some sort. Bake a cake, brownies, cupcakes, some cookies or a pecan pie to help out. If you can help in any way, call Darla Brumley at 839-2205. Money always helps.
Voting day is quickly approaching. This year I'm really excited to vote because we get to vote on something that is actually for our community! We have the opportunity to turn the White Bird School grounds into our very own community center, by voting it in as a "Parks and Recreation District." I know that there are already so many of you who are excited about this. If you're not, maybe it's because you just don't understand all the facts and don't yet know how fantastic it is, and how easy it actually is.
We are going to have a community potluck/meeting on Sunday, Nov. 2, at the school at 1 p.m. I hope to see all of you who came to the community meeting at Hoot's a while back! Everyone is welcome. You don't even have to be from White Bird; you only need to be concerned about the future of the White Bird School grounds. This will be a time for all of us to get together as a community, just to share a home-cooked meal and discuss this parks and recreation district. Bring your own beverage, a plate and a fork, and a dish to share with everyone. Since the building is empty, I could use some help gathering tables and chairs. Bring your lawn chairs! Hopefully it will be warm enough to sit outside. If so, heck, bring your guitars and your hula-hoops! Be thinking about the concerns you may have about this. Let's discuss the pros and whatever cons (I can't think of a single one). Be thinking about different ideas of what we could do with this property. If we vote this proposal in, we can do whatever we want with it! It will be ours! However, if we don't get to those voting booths on Nov. 4, this one-time opportunity will be gone. Come to the potluck/meeting. It's so very important, and who doesn't want to eat at a White Bird potluck!
The White Bird General Store has some new faces running the place! Go in and introduce yourself to David and Shelby. Since they have taken over, the hours of operation have changed. They are now open seven days a week from 8 a.m. to 8 p.m. They will be accepting debit cards and they are working on being able to accept food stamps also. Right now they are having a promotional door prize drawing and every time you spend $20, you get your name in the pot to win a fishing pole! Many blessings and the best of luck to Dave and Shelby! The phone number to the General Store is 839-2262.
The cribbage tournaments shall begin soon! The first one will be on Saturday, Oct. 25, at 2 p.m. at the Silver Dollar. What a great way to spend your time, playing crib with your neighbors on a fall Saturday afternoon. We always have such a great time.
Halloween is right around the corner. There will be a party at the Silver Dollar Bar. As always, there will be a costume contest, so you better get a good one figured out. Mac's will also be having a party with live music! Joaquin and Verna Lowe and Dave Dixon will be the band. Since Mac's serves food, kids are welcome to come to the dance until the kitchen closes. There's going to be a fire pit on the outside patio, drink specials and a costume contest. Mac's will also be having a prime rib special on Halloween.
Happy birthday this week to: Susie Ray, Shae Hollinsworth, Nikki Sickels, Ahni Anderson, Kelby Killgore, Madilyn Lindsey, Frank Sargent, Tara Connolley, Doug somebody, Kelli Martin, Dennis Swallow and the beautiful Amy Wilson.