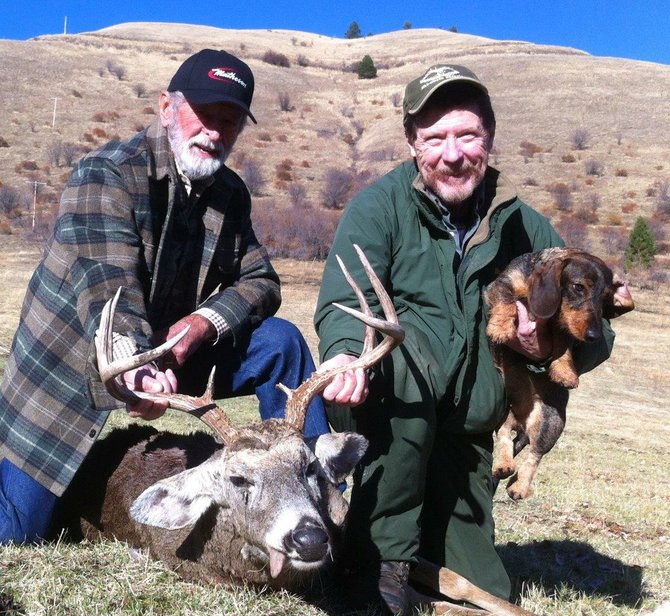 It is an agonizing ordeal when one loses a game animal. It is absolutely one of the worst feelings a conscientious hunter can endure. In order to prevent this type of occurrence Edd and Leanne Woslum in cooperation with the Idaho Dept. of Fish and Game, have trained blood tracking dogs. The sole purpose in life for these dedicated hard-working animals — other than running and playing — is to seek and track a hunter's wounded game animal on demand.
During the past 18 years, we have trained numerous breeds of K9s for this purpose and have been highly successful with Brittanys, German Shorthairs, Drathars, and most recently small German specialty dogs known as Teckles. These natural-born hunter/trackers are bred very selectively for their innate ability to scent blood even when the trail is more than 24 hours old.
Teckles are the ancestor of the American Dachshund, but are much more robust, and have very course wire hair. The average Teckle weighs in at 20-25 pounds, has very large hairy feet and is completely obsessive about tracking. Often these keen-nosed, tough little guys are able to successfully track deer blood for a half-mile or so when they are three months old. Dossie, our one and a half year old was tracking courses of laid deer blood at seven weeks of age. Last hunting season, at six months of age, she very efficiently tracked two different white tail deer for two very grateful out of county hunters.
Dossie's older sister Chui, has been the subject of several magazine articles and one previous story in the Free Press. She has in her two-year professional career successfully recovered six animals for hunters that would otherwise have been lost. To keep these wirehaired, keen-nosed trackers sharp and tuned up, their training curriculum includes a two and one half mile fitness run every morning plus they are taken on a 300 to 400 yard laid liver drag track once per week.
Chui's most renowned recovery was accomplished last year when she successfully tracked a lost deer for a Florida hunter who had contacted Fish and Game for assistance. This tracking job required two hours for her to complete and took her on a one-mile extremely difficult track that forced her to negotiate heavy thornbush and to traverse two steep canyons, plus two swiftly running creeks. She finally located the object of her quest in a heavy rose and plumb thicket and promptly jumped on the dead critter and tried to drag it out.
Both of these dogs have been certified by Fish and Game officers to be extremely capable in accomplishing their tracking assignments and can be called out for duty via any Idaho County Game Warden.