Cottonwood Republican Sheryl Nuxoll will face off for re-election on Nov. 4 against Democrat challenger Casey Drews (D) of Osburn for the District 7 Senate seat.
District 7 encompasses Idaho, Clearwater, Shoshone and a portion of Bonner counties.
Casey Drews
Casey Drews (D) of Osburn ran unsuccessfully in 2012 for the District 7A Representative position against incumbent Shannon McMillan (R). Drews did not respond to a Free Press request for candidate profile information.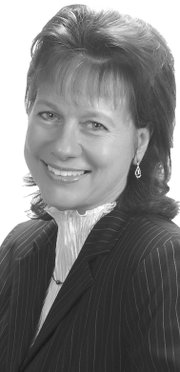 Sheryl Nuxoll
"'Less government, more opportunity' is my motto. This motto is my guiding principle for applying just and moral laws," said Sheryl Nuxoll. "We need less government involvement."
By applying this principle, Nuxoll said she would continue to defend religious freedom, private property rights, the right to bear arms, protect marriage and unborn children, and maintain a balanced budget.

Nuxoll (R) of Cottonwood is a two-term state senator from Cottonwood.
Regarding her current platform, Nuxoll said, "The state exchange needs to be repealed, entitlements need to be reduced, Common Core educational standards must be replaced with local control, health insurance must have free market options, and we must rid ourselves of financial dependence on the federal government."
Nuxoll said, "Our country is still the greatest yet and we need to keep it that way. Yes, there is much evil around us, but there is hope in our state."
Examples are work by dredge miners in defying the EPA, holding peaceful protests and working to change the law ("They have united and will be a big key to using our mineral resources," she said), construction companies are peacefully organizing to fight the corruption within the state transportation system, and parents organizing to regain control of their children's education in the public school as well as with homeschooling.
"The state has had three committee meetings in Kamiah, St. Maries and Sandpoint over transferring federal lands back to the state," Nuxoll said. "I am on that committee and I am so proud of the citizens in our district. When they testified, they were courteous, educated, researched and common-sensed. Overwhelmingly, all three meetings were in favor of the state controlling the lands, preferably with ownership."
Nuxoll said, "Let us rebuild our culture, our laws, and defend our constitutional and individual rights by keeping in mind our Judeo Christian tradition."