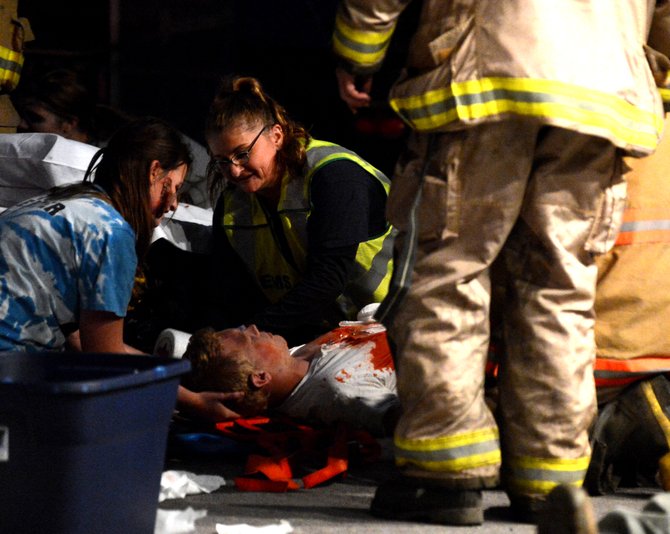 Photo by Andrew Ottoson
EMS providers work with a "casualty" at last week's training in Cottonwood.
COTTONWOOD — What is it like to be dead for an hour?
Christopher Osborne – who played one of eight shooting victims for a mass casualty drill held last week – said, "You get a lot of attention."
A simulated emergency call went out at 5:28 p.m. on Oct. 15. By 6 p.m., responders from several area agencies had arrived equipped to play-act a deadly scene at the Idaho County Fairgrounds.
In addition to Health Occupations Students of America (HOSA) students out of the Nezperce, Cottonwood and Summit schools, participants included those who would be among the first to respond to a real emergency.
Cottonwood's first responders have trained together with favorable results dating back 10-15 years, Cottonwood Police Department Chief Terry Cochran said. Joint training exercises, such as last Wednesday's, have brought together the St. Mary's Hospital ambulance and emergency medical technicians (EMTs), Cottonwood Fire Department and Cottonwood Police Department annually.
"There was some joint training before that, but you didn't see it to the extent you see now," Cochran said. "They trained together before, but not to the extent you see now. About 15 years ago, after a couple of really bad accidents, the fire department got extrication equipment and started training with it and that started the working relationship between the EMS and fire agencies. They've learned how materials are stored on each other's vehicles, so they can help each other out. These two agencies and their members have decided to work together, and I think they've done amazing things working together. These trainings help keep mutual benefit and respect and allow some back-and-forth. I can only foresee this cooperation getting better and better."
Cochran noted the firefighters help with car accidents – sometimes just by having a vehicle for blocking traffic. Having medics out for fires is not only for potential victims, but potentially to help firefighters as well, he noted.
Last Wednesday's training scenario presented the aftermath of a mass shooting, the scene of which was declared clear from the start. St. Mary's Hospital EMTs were first to arrive and checked Osborne, who lay nearest the door and wore the moulage of a fatal wound. The EMTs quickly moved on to the other "victims," who were scattered inside the arena building's main room.
At the same time, over at St. Mary's Hospital, the event served to test a new notification system as well as for annual training and certification purposes.
Idaho Public Health's North Central Idaho District – a partnership of the state legislature with Latah, Nez Perce, Lewis, Clearwater and Idaho counties – had observers on hand, as that organization would also have a management role to play in the event of a real disaster.