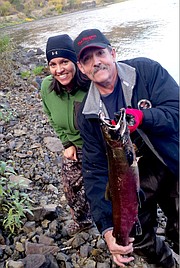 The Idaho Fish and Game Commission on Oct. 20 approved an historic fishery for the first time ever: a specific season for coho salmon is open in Idaho.
The season will run through Nov. 16 on the mainstem and Middle Fork Clearwater River from the mouth upstream to Clear Creek, near Kooskia, and on the North Fork Clearwater River downstream from Dworshak Dam.
Idaho coho salmon have adapted to changing river conditions more poorly than Idaho's other anadromous species, and were technically extinct for decades, before the Nez Perce Tribe began a recovery program using eggs from other locations. That program has resulted in growing returns, including this year's run. As of Oct. 14, nearly 15,000 coho salmon had passed Lower Granite Dam.
Local angler Steve Sims reported coho were "jumping the weir" to get into the hatchery at Clear Creek as recently as Oct. 25, but that the run had started to slow.
Anglers are allowed to keep two coho salmon per day. The possession limit is six, and the season limit is 10.
The rules brochure for coho salmon is available at http://fishandgame.idaho.gov/public/fish/?getPage=110.
Steelhead
fall "B-run" looks strong
In the spring of 2014 anglers on the Clearwater River were fishing for an unusually small run of "B-run" steelhead. These steelhead overwinter in freshwater and start arriving in August, but don't spawn until spring.
As anglers continue to harvest hatchery steelhead through the winter and spring, the number of available hatchery fish diminishes. The return that began last fall was small enough that fisheries managers reduced the limit to allow anglers continued opportunity through spring. On a large stretch of the Clearwater there was zero harvest of steelhead longer than 28 inches.
2014 is a much better year for steelhead, and the return of the larger "B-run" fish is especially healthy.
This fall, Clearwater anglers are allowed to keep two steelhead 20 inches or longer per day. The possession limit on the Clearwater is six steelhead and anglers are allowed to keep 20 steelhead for the season statewide.
In addition to good numbers of steelhead, anglers on the Clearwater are catching fall chinook and coho salmon.