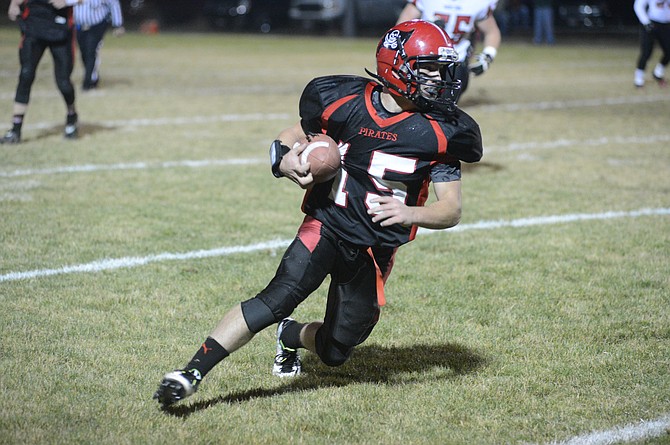 Photo by Andrew Ottoson
Hunter McWilliams rushed for 121 yards in Prairie's 80-26 win in the first round of the 1AD1 playoffs Oct. 30 against Wallace, running through tackles as often as around would-be tacklers.
COTTONWOOD — The one time Wallace put Prairie in a bad spot Thursday night resulted from a Pirates defensive stand deep in their own territory. Though Prairie began its second offensive possession from the Pirates' own three yard line, the PHS offense did as it did eight other times from better field position during the first half: Prairie scored almost instantly. Quarterback Jake Bruner threw to wide receiver Rhett Schlader who piled up about 60 yards after the catch on a 97 yard touchdown.
Bruner, who crashed the end zone from seven yards out just 38 seconds into the contest, went on to throw three more touchdown passes.
Wallace also had no answer for Hunter McWilliams, who broke a handful of tackles seemingly every time he touched the ball. McWilliams finished with 121 yards from scrimmage along with two rushing touchdowns.
Terran Peery, Mason Dalgliesh, Tyson Schlader and Calvin Hinkelman also scored for Prairie, which set a new season-high single game score in the 80-26 PHS win.
Grangeville 47, Nampa Christian 13
NAMPA -- Before Max Cawley recovered a Nampa Christian player's fumble midway through the first quarter of Grangeville's first round victory Friday night, the Bulldogs and the Trojans had traded possessions. Before Jack Lawrence jarred that football out of the runner's hands, Nampa Christian was starting to establish a threatening end-around rushing attack. But after that -- and after a 48-yard connection from quarterback Layton Harris to senior end Drew Lindsley -- Grangeville's offense went on the march.
Late in the first quarter, running back Jake Kaschmitter carried the ball on three consecutive plays and paraded into the end zone for a 6-0 lead. He averaged nearly eight yards per carry through the end of the half, after which he had 103 rushing yards and Grangeville held a 27-7 lead.
Utility man Michael Wilson lined up at linebacker defensively, at wide receiver offensively, and occasionally stepped in under center as the Bulldogs unveiled a wildcat formation they had run sparingly -- if at all -- during the regular season. Wilson caught a touchdown pass from Harris with one second left in the second quarter and handed off to Jack Lawrence for a 46-yard touchdown run barely a minute into the third quarter as Grangeville secured the right to travel to either North Fremont or Bear Lake for a quarterfinal game next week.
North Fremont will host Bear Lake at 2 p.m. MT tomorrow, Nov. 1.