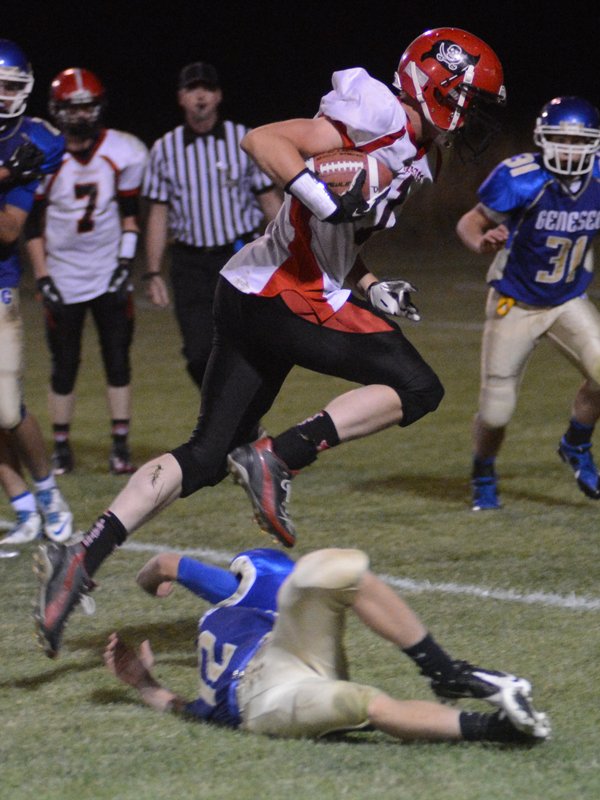 Photo by Andrew Ottoson
Prairie ran over Genesee 60-20 on the opening night of its 2014 football campaign.
GENESEE -- On a run by Jake Bruner, the Pirates scored a little more than a minute into a season opener they'd go on to win 60-20. Doubt about the ultimate outcome was manifest on the ensuing kickoff, as Prairie gave up a monster return. But the PHS defense kept Genesee out of the end zone and the Pirates quashed the questions with explosive offense. Adding one score on a run by Calvin Hinkelman and another score on a run by Bruner the Pirates had all the points they would need against the host Bulldogs before the end of the first quarter.
Genesee broke through 12 seconds before halftime, but Hinkelman scored again early in the third quarter. Then Bruner threw 28 yards to Isaiah Shears for a touchdown. Then Lucas Arnzen ripped a 77-yard touchdown run. Hunter McWilliams and Mason Dalgliesh scored late in the game. Genesee added two touchdowns late in the game.
CV 28, Cascade 16
CASCADE -- Clearwater Valley brought a full roster and before this one ended, Cascade -- which started with nine players -- could not field even eight.
Kamiah 64, Pomeroy 14
POMEROY, Wash. -- For the second week in a row, the Kubs (2-0) scored early and often against out-of-state competition.
Colton 36, Salmon River 22
COLTON, Wash. -- The Savages (0-2) gave the hosts a competitive game but ultimately fell to a Wildcats team that returned multiple starters and nine lettermen from a squad that went 9-3 in Washington last year.
Grangeville 41, Marsing 6
MARSING -- Grangeville turned two early turnovers into a quick 15-0 lead on a couple of touchdowns by Cole Lindsley. After Eric Kaschmitter recovered a fumble, Lindsley ran nine yards to cap a five-play offensive series. With little time remaining in the first quarter, Marsing's quarterback threw a ball up for grabs in Lindsley's vicinity -- and Lindsley not only intercepted it. He returned it 25 yards for a score that propelled the Bulldogs (2-0) toward their second lopsided victory already this season.