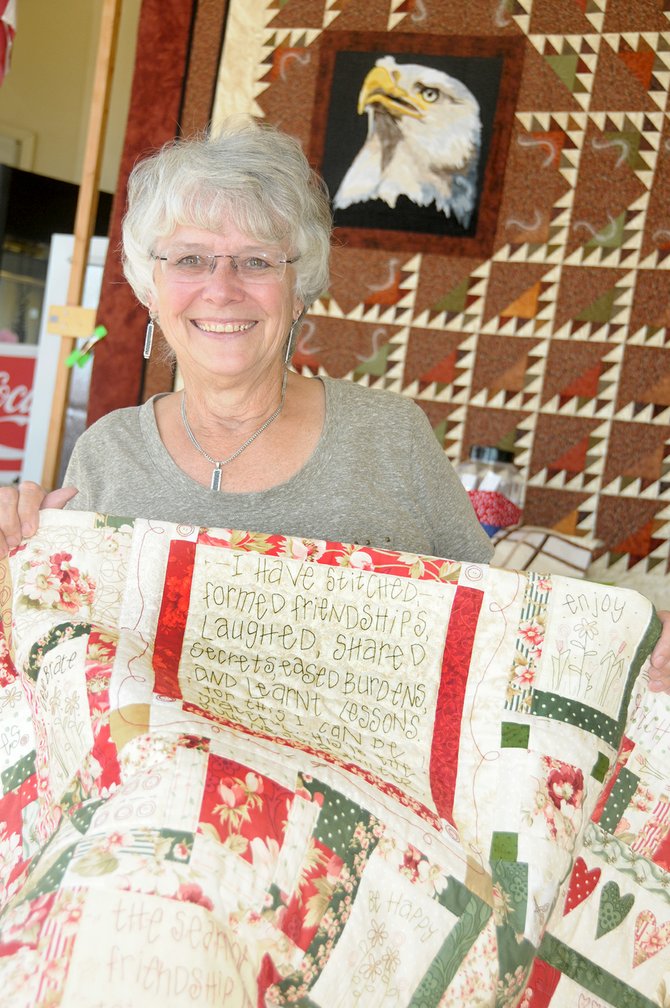 Photo by Lorie Palmer
Cathie Orr is the featured quilter for the Sew-Ciety quilt show which is set for Sept. 27 and 28 in Grangeville. She is holding a quilt she made and the guild's raffle quilt is pictured in the background.
KAMIAH — At the age of 8, a little girl dug through her mother's sewing scraps. To keep her busy the little girl's mother set up her daughter with a needle and thread to go with the fabric.
What started as a way to keep her busy has led to a lifelong love of quilting for Kamiah's Cathie Orr.
"I got serious about quilting in the mid-'80s," she said. "I took every class I possibly could for years."
That diligence has led Orr to being chosen as the Sew-Ciety Quilters 9th Biennial Quilt Show featured quilter. The show is set for Saturday and Sunday, Sept. 27 and 28, at Grangeville Elementary Middle School multipurpose room.
Orr raised her daughter in Boise and spent her career as an accountant for Boise Cascade, retiring after 35 years.
"For years work and family came first, though I always kept my hand in quilting, learning new techniques, working on projects," Orr said.
In 2006 she and her husband, Gary, moved to Kamiah where they would be closer to her daughter and family who had moved to Moscow and his children around the Northwest.
"And because he wanted to live in the mountains and fish and hunt," she smiled.
Orr still belongs to her original quilt club in Boise and meets twice a year with that group. She is a member of the Sew-Ciety Guild out of Grangeville and the Central Idaho Quilters in Kamiah. She has taught many classes at Melinda's Fabric (now Home Grown Quilts) throughout the years and still teaches some for her Grangeville quilt club.
"I decided to step back from teaching some because I have so many projects I want to do for myself," she said. However, she has not only completed quilting endeavors for herself but has also made at least 15 Quilts of Valor, wall hangings for the library and Hope Center quilts.
"I enjoy all aspects of quilting – design, machine quilting, hand piecing, embroidery," Orr said.
That little sewing project Orr started when she was 8? It's still going.
"When I was expecting my daughter in 1972, I made some more four-patches using fabric I had," she said. "This continued on using material from my daughter's dresses when she was young. This quilt is still UFO – unfinished object – but greatly loved."
Orr's quilts, wall hangings, bags and other items will be on display during the quilt show. In addition, a video will run showing all her projects throughout the years.