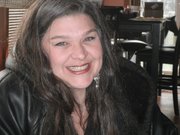 WHITE BIRD — The next event on the calendar is the chili cookoff, sponsored by the White Bird Medical Relief Fund. It will be Sept. 27 downtown. If you would like to enter the contest, there is a sign-up sheet at the Silver Dollar Bar or you can call 839-9930. You can show up as early as you need to on Sept. 27 in order to get your booth set up and get cooking. All chili must be cooked on site. You cannot use canned beans; however, you can presoak beans at home if you need to. The chili needs to be done by 4 p.m. in time for the judging. Shortly after the judging we all will be able to feast on the creations. There will be a beer garden and cash prizes. This is another one of those great times when we all get to share a meal together and get caught up with our neighbors. Bring your lawn chairs and spend the day with us. All the proceeds from this event go to the White Bird Medical Relief Fund. For information you can call Millie or Billie at 839-9930.
The Salmon River Art Guild, celebrating 50 years, invites the public to the regional art show. Viewers will be able to see fine art, sculpture, photography and participate in a silent auction. Up to $1,175 will be awarded. The art show is Saturday, Oct. 4, from 8 a.m. to 5 p.m. (MDT) and Sunday, Oct. 5, from 8 a.m. to 3 p.m. (MDT). The silent auction closes at 2 p.m. (MDT) on Sunday and items must be picked up by 3 p.m. (MDT). This event is open to the public at no charge. For information about entering the show and to RSVP, call 839-2493 or 839-2414 or e-mail srag.idaho@gmail.com.

Happy birthday this week to: Dale Rosenbaum, Kathryn Van Acker, Debbie Johnson, Jerry Greer, Suzanna Lowry, Kamie Laurence, Amber Brumley, Jake Johnson, Shilo Storey, David Seyer, Sharon Sickels and Tiffany Stolberg.