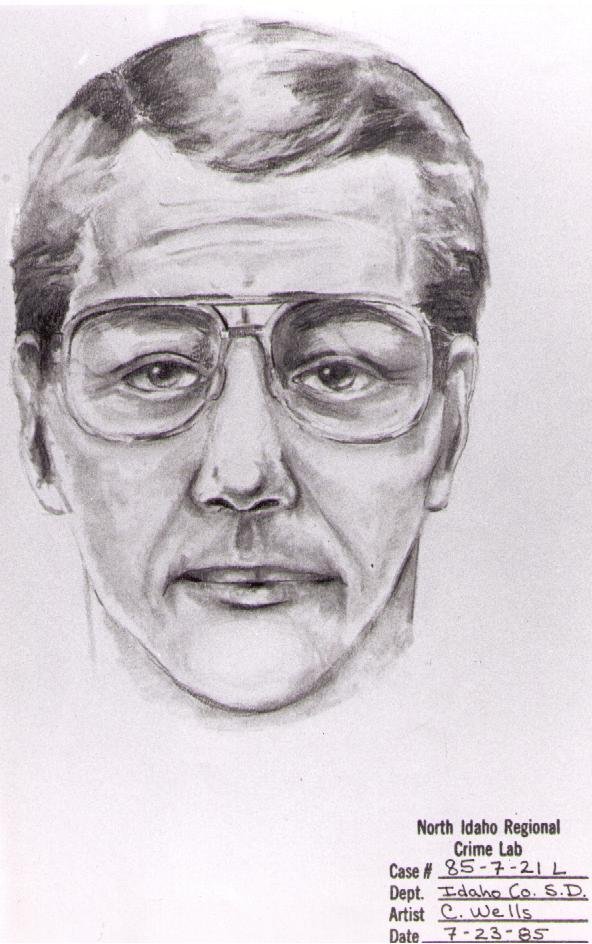 He was someone's son, a friend or co-worker to others. But who he was and how he died in the forested corridor along U.S. Highway 12 remains an elusive mystery. A classic cold case that is periodically revisited as tips or new forensic technologies arise.
Meanwhile, the unidentified remains await determination. And it's been a long wait for Mr. Bones — so named by the Idaho County Sheriff's Office (ICSO) – who has languished in a basement box since his discovery 30 years ago this month.
"It's undetermined," said ICSO Detective Jerry Johnson, on the cause of death for Mr. Bones. During the course of this long-term investigation several things have been ruled out, and new forensic work has changed the initially determined ruling of homicide, "but we really have no idea what killed him."
 •
1984: The same year the Lankford brothers – Mark and Bryan — were facing trial for the murder of an Arizona couple, another death case surfaced to lesser notoriety in Idaho County.
On Sept. 16, male human remains were found in a wooded area off U.S. 12 near the Powell Ranger Station. At the time, evidence suggested the man died two years prior, and the case soon pointed that he was likely the victim of a homicide.
How did this story unfold?
According to ICSO records and archived news coverage from the Idaho County Free Press, hunters came across the man's remains on Big Sand Creek less than one mile from the Elk Summit Road, 11 miles southeast of the Powell Ranger Station.
Two sheriff's deputies responded to the location, and three days later they returned to the site along with initial investigating officer, Dept. Kevin Reynolds, and two Forest Service personnel.
Headed toward White Sands Creek, "approximately three-quarters of a mile down we found the skeletal remains of a human, partially dismembered and partially dressed," wrote Reynolds in a Sept. 25, 1984, ICSO report. "Upon checking the area further we located a pair of white men's tennis shoes and pair of silver wire-rimmed glasses with one lens missing. Approximately 10 feet from the remains were a pair of Army fatigue pants containing no I.D or bones. Approximately 22 feet from the head of the remains we found a brown imitation leather short jacket lying against a tree."
The victim's remains — found in a face up position or lying on the back — were scattered across an area more than half the length of a football field: Within the jacket were the rib cage, several vertebrae and partial arm bones. From that, 60 yards uphill, was the skull with the lower jawbone found a further three feet away along with several other bone pieces scattered in the immediate area.
No identification, a watch, rings or other such items were found, Reynolds noted in the report.
Reynolds worked for ICSO from 1983 to 1987, stationed in Kooskia and Cottonwood. He resigned to care for his father-in-law in California, later started a landscaping business until going to work for the National Park Service at Yosemite National Park where he currently works as public safety dispatcher. Reynolds recalled the nearly 30-year-old case in an e-mail interview with the Free Press.
"When I first located the skeletal remains I immediately knew they had been there for a very long time, due to the condition of them and the foliage of the surrounding area," Reynolds said. "At that time, I had no idea of what might have happened. But later on I was told there was an abandoned camp located just up the hill from where the remains were located. When I learned that, I had suspicions that possibly foul play was involved, due to the clothing the subject had on, sneakers etc."
As the investigation progressed, the remains were tied to an abandoned campsite — around one mile away — found by hunters the year prior in September in a remote forest area approximately 400 yards from the White Sand Road. Among the items recovered in that investigation — including a nylon two-man tent and camping gear — was a prescription optical lens.
Due to the proximity of the camp to the remains and the eyeglasses lens, "There is little doubt that the remains and the camp are directly connected," wrote Dept. Larry Murray in a Sept. 25, 1984, follow-up report.
Initially foul play or suicide wasn't suspected. Investigators attributed the death to the most likely chain of events for those who lose their way in this region's steep, rugged backcountry: injury and/or exposure, and hypothermia.
A preliminary dental chart from the victim's remains was completed by Dr. Link's office in Grangeville, and a post mortem exam was conducted by Dr. Koenen at St. Joseph Regional Medical Center in Lewiston. Extensive time would be needed for reconstruction, advised the doctor, and even with that it may not reveal much.
"Dr. Koenen advised that it would take an anthropologist to do much with what was there," wrote Murray.
The remains were forwarded by then Idaho County Coroner, Kathy Gibbs, to Dr. Rodger Heglar, a forensic anthropologist from San Francisco University. Dr. Heglar had earlier helped the county in identifying the bodies of Robert and Cheryl Bravence who were murdered by the Lankford brothers in 1983 outside Grangeville. His report changed the focus of the case for the next 27 years.
Cause of death, he reported, was due to a left-side chest injury from a knife or knife-like object.
A "probable knife mark" was found on the left sixth rib inferior surface anterior end, according to Heglar. Direction of the wound was the underside of rib anterior to posterior, coming up to rib .3 or .4 mm.
From his investigation, Heglar determined the subject was a male 40 to 45 years old, five feet six or seven inches tall with blond or red hair, who on discovery had been dead for more than two years.
Subsequent investigation went on several paths that led nowhere.
A follow-up conducted in May 1986 started off poorly when items recovered from the abandoned camp could not be located by Deputy Reynolds, and were likely never logged as evidence. In the time since discovery of the camp and remains, both locations had been clearcut in logging operations. Reynolds returned to the area with a metal detector, "the area where the victim was found was gone over very carefully, but nothing was located," he stated in a May 22 report.
Who is this? Other missing person cases revisited
What of open missing person cases? Two years prior in 1984, Deputy Larry Murray investigated whether this could have been Steven Piersoll, missing from Lewiston since September 1982. This was shortly ruled out when it was found Piersoll had partial dentures.
Fast forward to May 1986, Reynolds contacted the Kansas City, Mo., Police Department in reference to one of their residents, Henry Groenewoud, who was reported missing Oct. 2, 1984, in the Lochsa area near Powell. That inquiry continued but no progress was noted.
Another possible lead was a park ranger from Cochise County in Bisbee, Ariz., Paul Fugate, missing since 1980 but reportedly seen in 1983 in Bend, Ore. An interesting case in itself, Fugate — married, an avid outdoorsman who often camped by himself in remote areas — was believed to have followed his pregnant girlfriend to Bend where he disappeared. She fell in with tree planters from that area and apparently went to Alaska, according to the report. Reynolds also noted Cochise County had information a Wisconsin man made a statement he killed a cop in Arizona during 1980, a possible connection to the Fugate case, but investigation details were not clear, reported Reynolds.
The Arizona and Oregon law agencies were contacted, and while Fugate was unable to be located, dental records provided by Cochise County were reviewed by Dr. Link who reported they did not match with the remains found.
Leads were also pursued by Reynolds to Oregon to locate the tree planting companies that had worked in the area during the time the death supposedly took place, as well as contact the supplier for the eyeglasses found at the scene. Of those companies contacted, one had employee names but no further information to assist in locating them. The eyeglasses lead was even less helpful as the supplier kept no records on individual sales, but shipped in large quantities to distributors who then sold to individual optometrists.
And through it all, nearly each report ended similarly: "At this time there is no new information." The last file, dated June 10, 1986, ended with, "Investigation is being continued."
Reynolds recalled that at the time there was nothing that stood out as unusual during the investigation.
"There were a couple of statements made by some individuals in Kooskia as to a suspect, but they were not included in the reports. That will remain a closed subject for now, because this is still an open cold case," Reynolds said. "I did not receive any unusual inquiries about the remains except for the usual 'what and where' questions from citizens who had heard about it. As far as I was concerned, it was a crime scene and still ongoing. There were probably some things that I would have done differently during the investigation, but my hands were somewhat tied."
Case changes: no longer a homicide?
Fast forward to 2011 when ICSO shipped the remains to the University of North Texas Laboratory of Forensic Anthropology's Center for Human Identification. In a four-page report, examiners' findings led to expand upon subject identification, as well as revise speculations on cause of death.
According to Christopher R. Grivas, M.S., and H. Gill-King, Ph.D., D-ABFA, the subject is believed to have been predominantly white with some trace of Native American ancestry. As far as the initial cause of death listed by Heglar due to an incising wound by a knife or knife-like object to the chest, the 2011 report instead observed no perimortem (at or near the time of death) injuries.
Of the narrow defect found on the rib: "The margins are crushed rather than incised and exhibit no evidence for the formation of a bone flake typical of incised wounds in living bone. The defect most likely has a postmortem [after death] cause," stated the report, which added that a depression area found on a second rib was likely an abnormality, "not the result of an incising wound."
A homicide? Not so definite now, according to the new findings.
So where is this case at now?
"Obviously this is a cold case that is not being actively investigated," Detective Johnson said. That being said, it is revisited as forensic technology improves, such as with the 2011 work, which the Texas laboratory conducted a full workup for free. As part of that, DNA was extracted from Mr. Bones' remains and entered into a national database, from which as the collection expands, an identification could be made. "And if someone comes forward about a missing person, "he continued, "we could work that angle and compare their DNA to Mr. Bones."
Earlier this year, the county coordinated with federal investigators on this case being the possible victim of a serial killer currently in custody. However, that was recently ruled out, Johnson said, as "his story didn't match up to the evidence."
In the Internet age, the public can not only find out about the case, but be part of the investigation as well. Case information has been entered into NamUs (http://namus.gov/), the National Missing and Unidentified Persons System where the public can review and also contribute data on missing persons and unidentified human remains.
But in the interim, Mr. Bones remains in storage. "Unfortunately," Johnson said.
The case data slowly grows, and even with the new evidence, that this could have been a homicide is still a possibility, maybe more so than just a natural death.
"Something violent happened here," Johnson said, due to the spread of the evidence, specifically noting the eyeglass lens' location. But was it human-related? Animal-related? It was something out of the ordinary, according to Johnson, and the hope is evidence will eventually lead to identify who this is and what killed him.
•
"After 29 years I have thought about it often and always wondered if it will ever be solved," Reynolds said, who from the start had speculated the remains belonged to a tree planter from the area or the Pacific Northwest. "I have spoken with one of the current investigators about this and he has assured me that all avenues have been covered."
With the technology – including DNA identification — now available to law enforcement, and the unidentified persons websites, Reynolds said, "I hope eventually someone will see the photos and will be able to identify him."